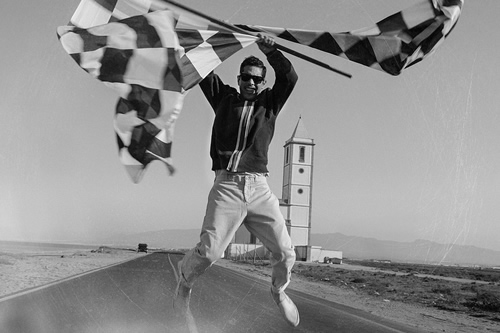 LVC hits the Levi's Archives to reproduce garments from bygone eras. For Spring 2013, Levi's Vintage Clothing pays tribute to the golden era of the American Hot Rod and the sharply dressed car owns and spectators who sported Levi's. There are some must-have pieces throughout the lineup including a suede version of the classic military style bomber jacket worn by pilots in WWII. LVC's rendition comes in navy blue, is medium weight, has a short regular fit, and plenty of fine detailing such sa ribbing on the collar, cuffs and bottom hem as well as contrast lining.
In addition to releasing the collection of Hot Rod-inspired Levi's jeans and Sportswear, the Brand teamed up with Los Angeles-based filmmaker and curator Aaron Rose to make a short film about the origins of Hot Rod culture in Southern California back in the early 1950's. Rose pulled from hundreds of hours of painstakingly researched archival footage ranging from old "juvenile delinquent" movies and Life Magazine drag-race films to home movies unearthed from personal collections. He dug deep in research and the result shows the effort. Rose delivers a striking and fast-paced film that captures the style and attitude of the uniquely American post-war subculture which continues to influence the worlds of fashion, music and mechanics to this day. You can check the video out below.
The Levi's Vintage Clothing Spring 2013 Hot Rod collection will hit select retailers in the weeks ahead but you can check out the entire lineup online now through LVC's newly redesigned site.