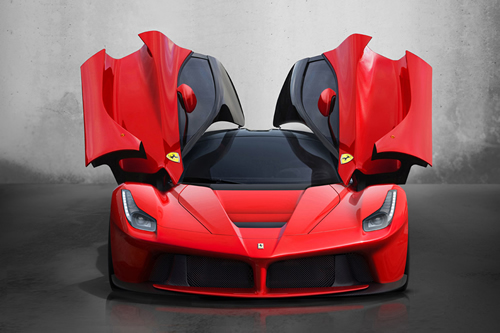 2013 LaFerrari Unveiled
Eleven years after the Ferrari Enzo, the Maranello-based automaker has officially unveiled their next supercar — the 2013 LaFerrari. Powered by the HY-KERS system that was developed alongside Ferrari's Formula 1 racing efforts, LaFerrari features a 789-hp, 6.3-liter V-12 internal combustion engine that's matched with a 120kW (161 hp) electric motor. All this is mated with Ferrari's F1 dual-clutch gearbox, with claims of a 0-62 mph time under three seconds and a sub 7-second 0-124 mph time. Some of Ferrari's top race drivers gave their insights into how the interior should be designed, in an effort to bring as much single-seater driving position to LaFerrari as possible. As a result, the driver's seat itself is fixed and built to driver specification, while the steering wheel and pedals are adjustable to achieve proper reach.
We're still waiting on some finer detailers like cost and weight but check out the launch video of the 2013 LaFerrari below to get your mouth watering.