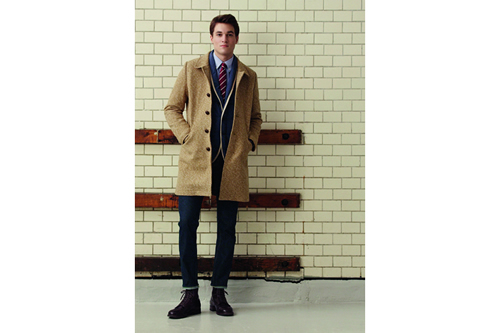 Here, we have a look at GANT Rugger's Fall 2013 collection, one which delivers a lineup that's a bit more casual but with even more attention given to the finest details, fabrics and finishes. Look for a toned-down color palette of muted winter weather classics with shades such as army melange, amarone red, camel and navy as well as the label's new "winter pastels" which include dusty pink, light lemon and pale powder blue. Look for GANT Rugger classics like tailored blazers to now be available in an Alpaca mix. Fitted outerwear options like the brand's Homerun baseball jacket, looks exceptional in grey wool herringbone and goat leather sleeves. New pieces for the season include a quilted blazer with a shawl collar and contrast piping, and our super casual cardigan blazer, worn on its own or with true sprezzatura style underneath another blazer.
Don't overlook the accessories lineup as it includes shantung ties, selvage madras pocket squares, and organic leather goods with some new items including cozy Alpaca cashmere socks, and Italian made wool and silk scarves with hidden hamburger prints.
Look for the GANT Rugger F/W 2013 collection to begin delivering to select retailers late summer.