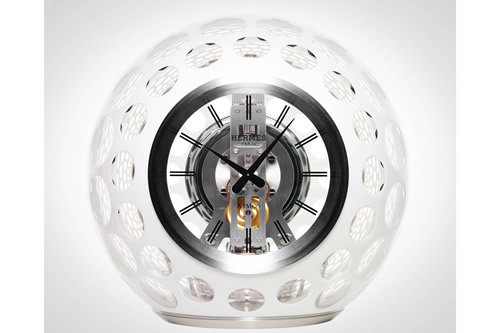 Hodinkee has turned us to the latest iteration of the legendary Atmos clock from Jaeger-LeCoultre. This time around, Jaeger is collaborating with Hermès for the desk clocks. Atmos clocks of the past need no winding or battery. They're powered by a gas-fueled mechanism that leads to the balance wheel beating just twice per minute, instead of the few hundred you'll find in a wristwatch's movement. And now, this latest creation mates the Swizz watchmaker with French fashion house Hermès. The relationship between the two dates back to the 1920s but was a halted in the 1970s when Hermès began making all their timepieces in house.
Les Cristalleries de Saint-Louis, the famous glassblowers, created a special double layer glass dome so complicated to produced that only the six most talented glassblowers at the firm were capable of completing the process. The air-blown dome is cut to reveal transparent pearl-like beads, and then polished to create subtle light effects. The entire dome is lined with white enamel. Magnificent. The 276 x 276 x 272 mm clock weights over 10kg and the dotted exterior allows for viewing of the incredible JLC caliber 560a Atmos movement.
This piece of work is filled with endless detailing and so sophisticated that we're surprised that the limited quantity number is 176. It's priced at roughly $39,000 USD.