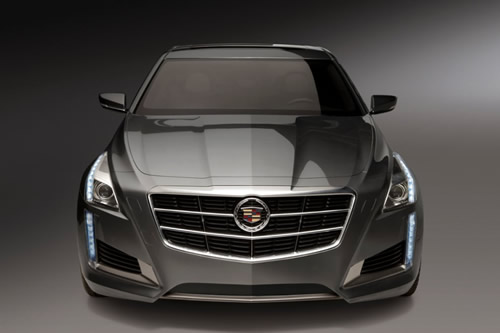 The 2014 Cadillac CTS was officially unveiled earlier today and we were at the press conference to see this beauty in person. The luxury sedan furthers the brand's Art & Science philosophy as it looks to deliver a longer, leaner aesthetic, reflective of its lightweight, driver-focused ethos. You may notice the CTS takes much inspiration from the highly successful Cadillac ATS, which we had the opportunity to review earlier this month. The new CTS is about five inches longer, with a roofline, hood line and windshield base all about an inch lower, emphasizing a long dash-to-axle proportion that enhances the car's athletic appearance. The front end is aggressive and feature Cadillac's signature bold vertical lighting elements. Included in this are LED front signature lighting details which evolve with headlamps that flow up and with the hood line. The headlamp housings incorporate crystalline LED light guides in the upper and lower forward corners and also serve as daytime running lamps.
The classy elegance we've come to expect from the American automaker runs true once again as the 2014 CTS has an interior that's as refined as its new exterior shell. High-quality materials can be found throughout the cabin as well as a range of tech features being made available to the driver's fingertips. Cadillac's CUE infotainment system runs the show and features some much-welcomed enhancements over its last iteration which we utilized in the 2013 ATS, though expect the latest software to be retrofitted into previous models where compatible. Don't think you'll be needing to check your phone as once you pair your iPhone or Android phone, CUE can deliver music and calls while also allowing you to easily access voice-prompting services like Siri, all via bluetooth.
In the driver seat, you're met with a blend of analog gauges and a 5.7-inch driver information center display which comes standard, while other models feature a 12.3-inch color reconfigurable screen with four levels of information displays: simple, balanced, performance or enhanced. Once you're ready to kick things into high gear, you'll have the option to pick from three powertrains: a 272 hp 2.0L Turbo with optional AWD, a 321 hp 3.6L V6 with optional AWD, and the debut of Cadillac's first twin-turbo V6 which will dish out 420 hp, 430 lb-ft of torque. The top-of-the-line V6 will also be mated to company's first eight-speed automatic transmission which will help to go from 0 to 60 in 4.6 seconds.
One thing we're really excited about is Cadillac's introduction of the Vsport version of the CTS. This highest-performance CTS, pre-CTS-V of course, uses the twin-turbo V6, eight-speed automatic and model-specific features like aluminum 18-inch wheels with Pirelli summer tires, a quicker steering ratio, Brembo disc brakes, a heavy-duty track cooling package, an electronic limited-slip differential and a driver-selectable track mode.
Pricing for the 2014 Cadillac CTS has not been announced yet but look for more details to surface as the car gets closer to hitting showrooms later this year. For now, enjoy a video on the CTS which showcases some of the features we've highlighted and much more.