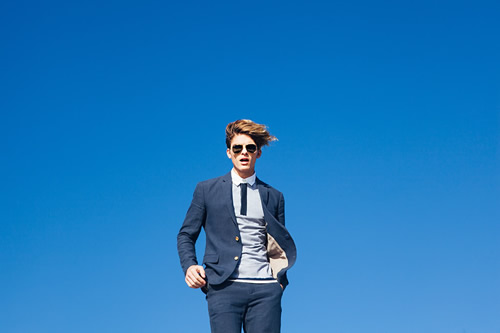 As Shades of Grey by Micah Cohen continues to hit retail shelves for S/S '13, the designer has taken the liberty of putting together some looks on location in his hometown of Los Angeles, highlighting different themes within the collection. And that's one thing we've always appreciated about Shades of Grey – the brand's ability to deliver a cohesive, yet versatile product lineup consistently season over season. For the current season, you'll see the "Expect the Unexpected" image set shed light on the collection's rich mix of patterns, layering options and bring spring colors that inspired the collection — tie dyes, ikats, bandana prints, tees under suits and more.
Here's what Micah had to say about the lookbook:
So the world didn't end in 2012 and the Lakers might not make the playoffs. It's time to expect the unexpected! Finally, after 4200 years of "traditional" menswear, it's time to throw caution to the wind and break all the rules. Wear prints on prints on prints on prints, sweatpants with woven shirts and suits with layered tees. The more unexpected the better.
Pieces used in this series are available now through Shades of Grey by Micah Cohen and select stockists.