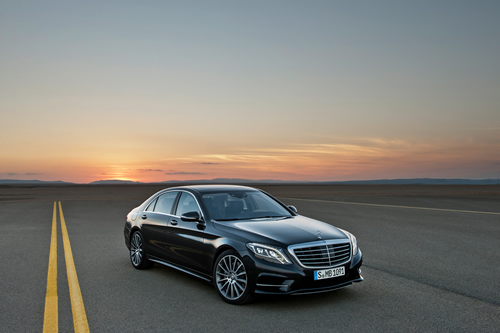 Last week, Mercedes-Benz officially took the covers off the 2014 Mercedes-Benz S-Class with a complete song and dance to mark the occasion. The unveil took place at an Airbus factory in Hamburg with Alicia Keys performing and The Stig on hand with some fireworks tossed into the mix as well. Bottom line, this is the German automaker's most advanced S-Class to date and it's one where it's equally enjoyable whether you're doing the driving or sitting in the back calling the shots. The larger grille makes it stand out and it's got some exterior enhancements that, when coupled with all the interior and technological upgrades, will make this S-Class the best in its class.
The tech features are endless with 3D cameras, night vision, radar, as well as LED headlights and taillights with auto-brightness capabilities. There are 500 LEDs in total, 300 of which are throughout the interior. They can be lit in seven colors with five dimming levels and four dimming zones. The 2014 S-Class also features what the automaker calls the first suspension with eyes. The car's Magic Body Control system uses Road Surface Scan to detect evenness ahead and then prepare the standard air suspension for the turbulence.
Performance comes from a twin-turbocharged 4.7-liter V-8 that dishes out 455 horsepower with 516 lb-ft of torque. The back seat has a reclining seat option with "unrestricted legroom" by way of the backrest angle which is adjustable up to 43.5 degrees. The back seats can also be ordered with a business center in the middle and even massaging seats. Two 12.3-inch displays can be seen up front while there's also an adjustable active perfuming system in the vehicle.
The rear-wheel-drive S550 will hit showrooms this September with an all-wheel-drive version and a high-performance S63 AMG model coming in November. Look for a plug-in hybrid and two variants with a V12 engine debuting next year as 2015 models.