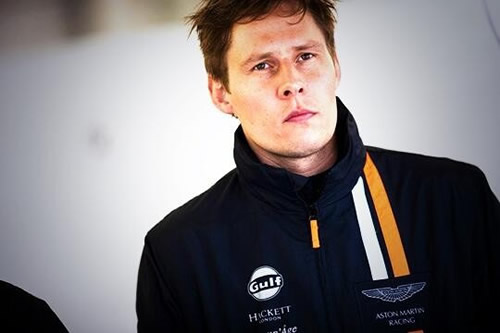 Danish racing driver Allan Simonsen died earlier today after a crash at the 81st 24 Hours of Le Mans, shortly after his No. 95 Aston Martin spun off the track. He was 34 with this being his seventh time participating in the race. Aston Martin has blacked out their site with this statement:
Le Mans, 22 June 2013: It is with great shock and sadness that the Aston Martin Racing Team confirms that an accident occurred shortly after the start of the 24 Hours of Le Mans at around 15:09 hrs CET today (22 June) when the No 95 Vantage GTE driven by Allan Simonsen left the track at Tertre Rouge.
Tragically, and despite the best efforts of the emergency services in attendance, Allan's injuries proved fatal.
Aston Martin Racing Managing Director, John Gaw, said: "On behalf of all of us at Aston Martin Racing, I would like to extend our deepest sympathies and condolences to the individuals, and families whose friends or loved ones were involved in today's terrible tragedy."
Aston Martin Racing will not make any further comment until the precise circumstances of the accident have been determined. Next of kin have been informed.
Following the ACO's media statement concerning the tragic death of Aston Martin Racing driver Allan Simonsen, and at the specific request of his family, the team will continue to participate in the 24 Hours of Le Mans in tribute to Allan.