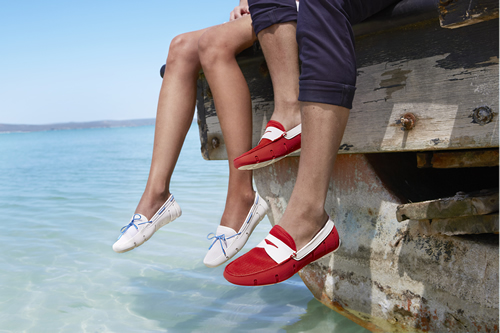 Johan Ringdal founded SWIMS back in 2005 and has seen tremendous success over the years. With the release of the Norwegian brand's Spring/Summer 2013 offerings, we had the opportunity to connect with the Creative Director to talk SWIMS and S/S '13. Check out the Q&A below and flip through the Spring/Summer 2013 lookbook.
How did SWIMS come about?
I was a student attending Parson's in New York when I came up with the idea of redesigning the overshoe. I was wearing my grandfather's old galoshes, and wanted to make this classic and very practical item contemporary again. After graduating, I created the first SWIMS product: the SWIMS Classic overshoe. Most people viewed the galosh as an odd and old-fashioned product, but I firmly believed that by making the design more modern and elegant, adding colors and a sense of fun to the product, the galosh would become relevant again. We even launched a special galosh for sneakers – the SWIMS City Duck – for all the sneaker freaks out there.
Why "SWIMS"?
Seeing that the galosh protects your fine leather shoes from getting damaged in inclement weather, I wanted the brand to be associated with water. In addition, I wanted to include an element of playfulness, which is why we include such bright and fun colors. I spent quite some time coming up with the name, but once I did, it was the perfect fit for what we were trying to accomplish.
Talk to us about the current Spring/Summer 2013 collection. What was your inspiration for the collection?
In order to stay true to our concept at SWIMS of "reinventing classics", I decided to develop a summer shoe based on another timeless classic: the loafer. The SWIMS loafer is classic in its design but its composition is new. Our version is made out of rubber and nylon, making it the perfect shoe to wear on a boat or by the sea. For Spring/Summer 2013, I got inspired by Miami's Art Deco scene and included a wide range of these vibrant colors into the collection. We wanted to pay tribute to this wonderful and exciting city!
Your favorite item from the collection?
Personally, I love the wave front loafers.
What are some key retailers in the US?
We have so many amazing retailers in the US such as Neiman Marcus, Brooks Brothers, Saks Fifth Avenue, Scoop, Allen Edmonds, amongst others.
What can we expect for fall?
The Fall/Winter 2013 collection is (as always) inspired by classic silhouettes and highlighted by bold rubber details. Our boots were designed by incorporating the DNA of our brand, the SWIMS classic overshoe, into the design and shape. We have also developed a new deck shoe for those living in warmer climates and to extend our loafer family.
What do Norwegians do best?
There's a saying that "all Norwegians are born with skis on their feet ", meaning that we are very into sports and staying fit. Nevertheless, Norwegians are also good at throwing a great party!