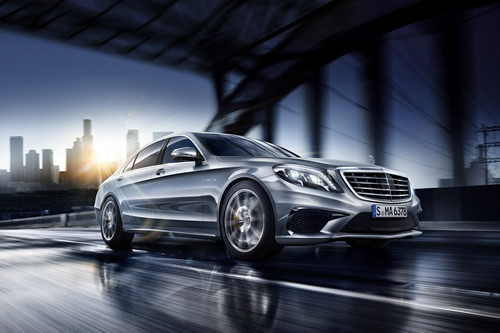 Mercedes-Benz has unveiled the 2014 S63 AMG 4Matic, the company's flagship all-wheel-drive sedan. Power comes from a 5.5-liter V8 engine that dishes out 577 horsepower and 664 pound-feet of torque, which is a significant increase from the 536 hp and 590 lb-ft of the current model. With all the enhancements to the twin-turbos, direct injection, and tons more, the S63 still dropped 220 pounds by introducing aluminum construction (body panels, roof and front end), light-alloy wheels, a lithium-ion battery and a "weight-optimized AMG high-performance two-piece brake system. 0-60 mph can be reached in 3.9 seconds with the top speed electronically limited at 186 mph.
Looks wise, the S63 is slightly lower and features a more aggressive design. the revised grille and front end with larger air intakes, gloss-black accents, two sets of twin tail pips and AMG wheels all add to the appeal. Inside, look for AMG sport seats with embossed logos, carbon fiber and metal trim and an AMG steering wheel. One of our favorite details comes in the form of an analog clock in IWC design, which for the first time features three-dimensional, milled metal hands and metal appliqués on the dial.
Look for more shots of the 2014 Mercedes-Benz S63 AMG 4Matic in our gallery with a world premiere of the vehicle coming in September 2013.