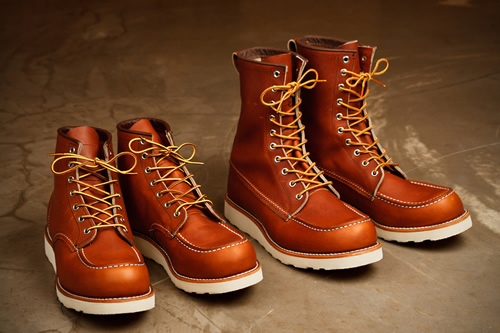 Introducing | The New Red Wing Heritage 875 and 877 Boots
Red Wing's Heritage division has updated the leather used on the iconic 875 and 877 boots to be truer to the original. Red Wing Heritage's new Oro Legacy leather will replace the Oro-iginal leather that has been used on the previous version of the iconic 875 and 877. Oro Legacy is a supple, more natural richly colored leather that harkens back to the days when Red Wing's salesmen recalled pulling boots out of the box "slick with oil". And like the other leathers in the Heritage collection, it's made right in Red Wing, Minnesota at S.B. Foot Tanning Company. The new Oro Legacy is a more natural leather that displays much more character than the previous 875 and 877 leather.
The 875 6″ moc-toe boot and 877 8″ moc-toe boot will retain their shape and classic styling, but the Oro Legacy leather update means that they'll be as close to the originals as possible. Learn more about the 877 and 875 boots at RedWingHeritage.com.