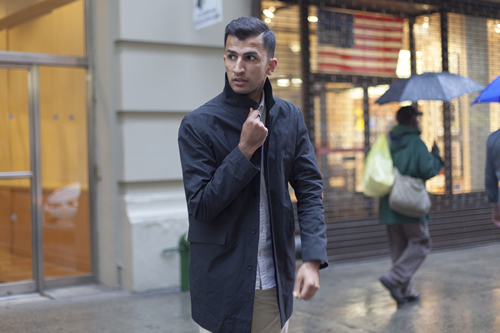 In collaboration with Chicago-based Stock Manufacturing, we introduce to you this trench coat. It's our first jump into design and we're really excited to get it out on the market and see how it's received. Stock gave us the option to pick any garment we wanted and I decided to go with a high quality, any-season trench as it's one of the most essential garments a man can own.
It comes in a trimmed down fit which flows nicely with the overall minimalistic design. The mid-thigh length was key here as was going with a weather-resistant fabric. I wanted to deliver something that was versatile and I'm really confident in the finished product. Blend the details with the old-world tailoring techniques and the finest Japanese fabric and you've got a must-have for any man's closet.
This piece will be sold exclusively through Stock Manufacturing, for two weeks only. After the next 14 days, the team in Chicago will produce what was ordered, and that's it. This exact piece will never be available again. So, click through, check it out, and if you dig it – buy. Any questions / concerns / comments, please reach out to me directly if needed — atif@porhomme.com.
Buy It: $275 at Stock Manufacturing