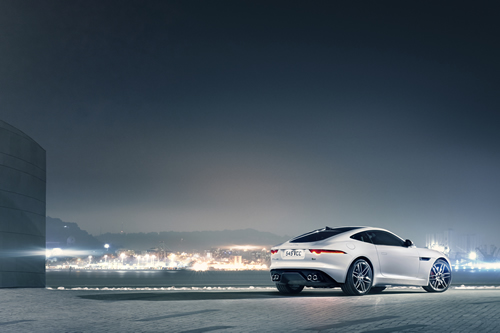 Tonight, Raleigh Studios in Los Angeles played host to the unveiling of Jaguar's F-TYPE R Coupé. The most dynamically capable, performance-focused, production Jaguar ever got plenty of face time with media, celebrities and customers at the exclusive reveal event but the social media chatter from the evening has been focused primarily on the F-TYPE's dynamic entrance. Attendees saw the F-TYPE R Coupé accelerating towards them before it passed under their grandstand into a hidden tunnel at full throttle. When you've got 550 horsepower coming from a supercharged V8 that delivers a 0-60 mph time of just 4.0 seconds, how else do you even think to arrive?
Ian Callum, Director of Design at Jaguar said: "Creating a sports Coupé is the purest of design tasks, and also the most challenging; get it right and aesthetically the result will be as dynamic as the car should be rewarding to drive. In F-TYPE Coupé, I believe we've got it right."
The Jaguar F-TYPE R Coupé leads the F-TYPE pack, rounded out by the F-TYPE S Coupé and F-TYPE Coupé models, powered respectively by 380 hp and 340 hp versions of Jaguar's 3.0-litre supercharged V6 engine, giving 0-60mph in 4.8/5.1-seconds and top speeds of 171/161mph.