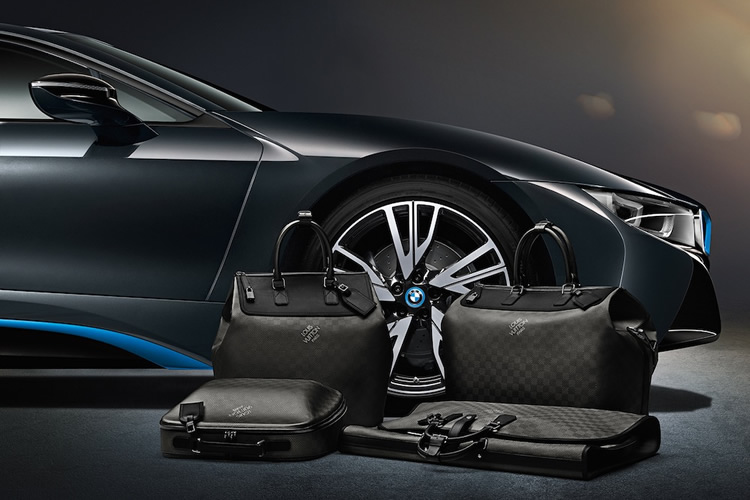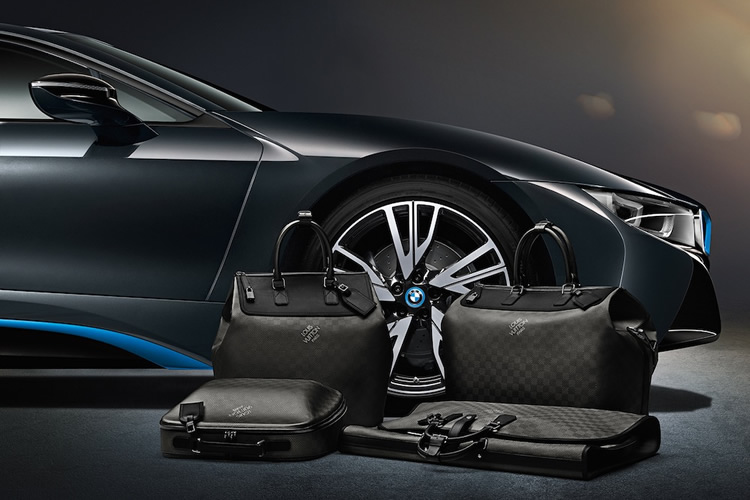 Louis Vuitton is known for crafting some impeccable luggage for both men and women but they've just unveiled a tailor-made set for BMW's i8 plug-in hybrid that's made entirely of carbon fiber. The lineup includes two travel bags, a business case and a garment bag, all of which have been optimized to fit perfectly into the interior of the BMW i8.
The carbon-black of the luggage matches the colors of the BMW i8 and features Louis Vuitton's signature chequered Damier pattern and a laser-etched LV signature. Black and electric blue used in the microfibre lining take their cue from the trademark brand colors of the BMW i8 while bag handles are made from dyed natural leather, a sign of Louis Vuitton quality. All items in the collection come with leather name tags and the iconic Louis Vuitton padlock with the exception of the garment bag.
As previously mentioned, each piece is made to fit perfectly in the i8. The Weekender GM i8, with both hand and shoulder carry straps, is custom-designed to go into the boot, while the Garment Bag i8 is a perfect fit for the rear shelf of the BMW i8. The sturdy hardshell Business Case i8 which is also ideal for carrying laptops, matches the shape of the rear seats. And last but not least, the small Weekender PM i8 is designed to rest on its surface.
The Louis Vuitton luggage series will be available upon request in a selection of Louis Vuitton stores worldwide (Munich, Milan, London, Paris, Moscow, Dubai, New York, Los Angeles) starting April 1st, 2014.