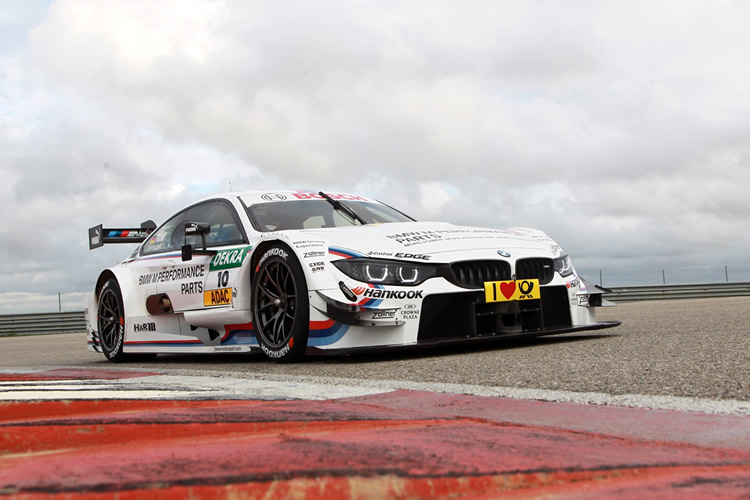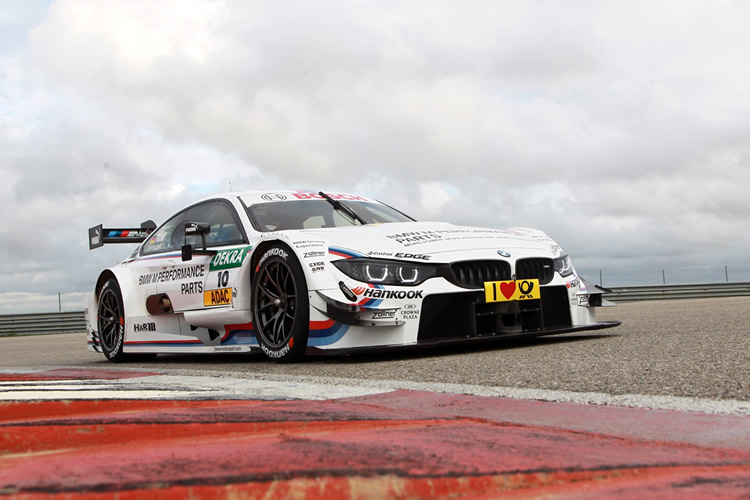 BMW Motorsport has unveiled the 2014-spec BMW M4 DTM. Tests are underway to optimize detailed aspects of the total package and understanding how to exhaust the full potential of the car. The new car will make public appearances out on the track at the official ITR tests in Budapest from March 31st to April 3rd and then at the final test in Hockenheim from April 14th to 17th. Like last year, the official presentation of all eight BMW M4 DTMs on 25th April in Munich's BMW Welt will provide BMW Motorsport fans with a taste of what they can look forward to in the upcoming season.
A lot of time's been dedicated to perfecting aerodynamic drag and air flow. Similar to the production model M4, the air curtains at the front of the BMW M4 DTM are designed to reduce air drag while narrowing the air ducts accelerate the airstream flowing through the front skirt, guiding it systematically past the wheels and reducing turbulence around the wheel arches. Another new feature on the BMW M4 DTM is a plate along the side channel, which lends the racing car an even more striking outline. The eye-catching contoured roofline decreases the front surface area of the BMW M4 DTM and further reduces aerodynamic drag. The flatter rear window optimizes the way the airflow approaches the rear wing. The striking wing mirrors, with their twin-stalk mounts, are another pull from the production model, and the mirrors on the BMW M4 DTM have also been aerodynamically optimized for the racetrack to ensure they aid efficient airflow towards the rear of the car.
The BMW M4 Coupé itself has dropped 80 kilograms from its predecessor and this is something that you'll see translated into the DTM model. Virtually the entire body of the BMW M4 DTM is made of carbon fiber. The weight reduction and consequent lowering of the centre of gravity are key to the car's performance on the racetrack. The basic weight of the BMW M4 DTM, with driver, is 1,110 kilograms.
Under the hood, you'll find BMW's P66 engine which delivers 480 bhp. It features 800 different components which consist of 3,900 individual parts. The BMW V8 for the DTM is both a sprinter and a marathon runner. It allows the BMW M4 DTM to accelerate from 0 to 100 km/ in about three seconds. Only ten engines are permitted for all eight BMWs over the course of the entire season so these have been made to withstand the force they'll be put through. The engine's mated to a sequential six-speed sport gearbox, which is operated pneumatically using shift paddles mounted on the steering wheel.
Look for the BMW M4 DTM at the first showdown in Hockenheim on May 4th.