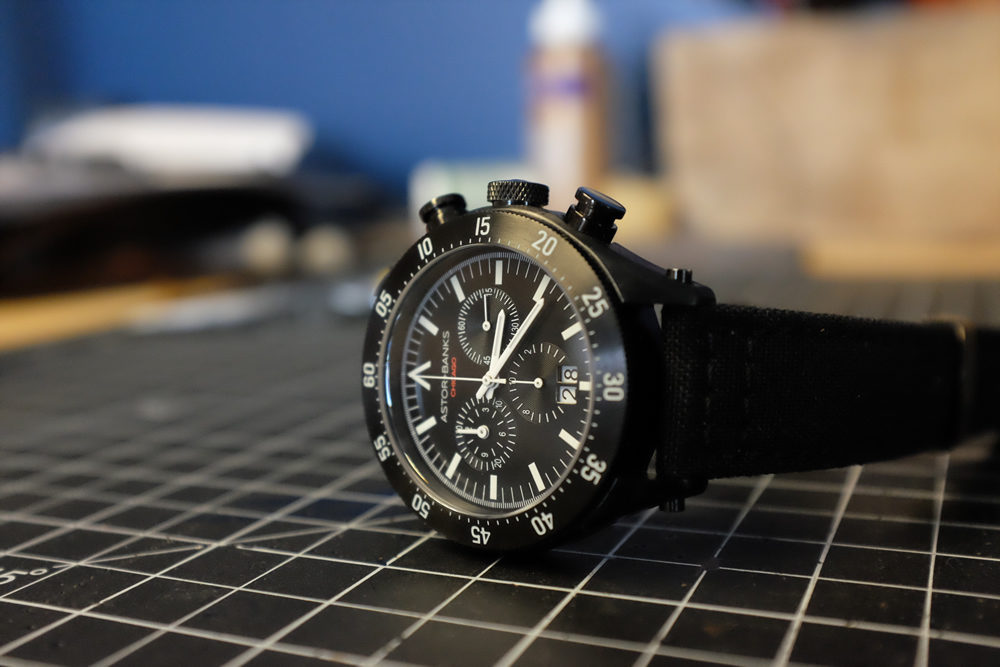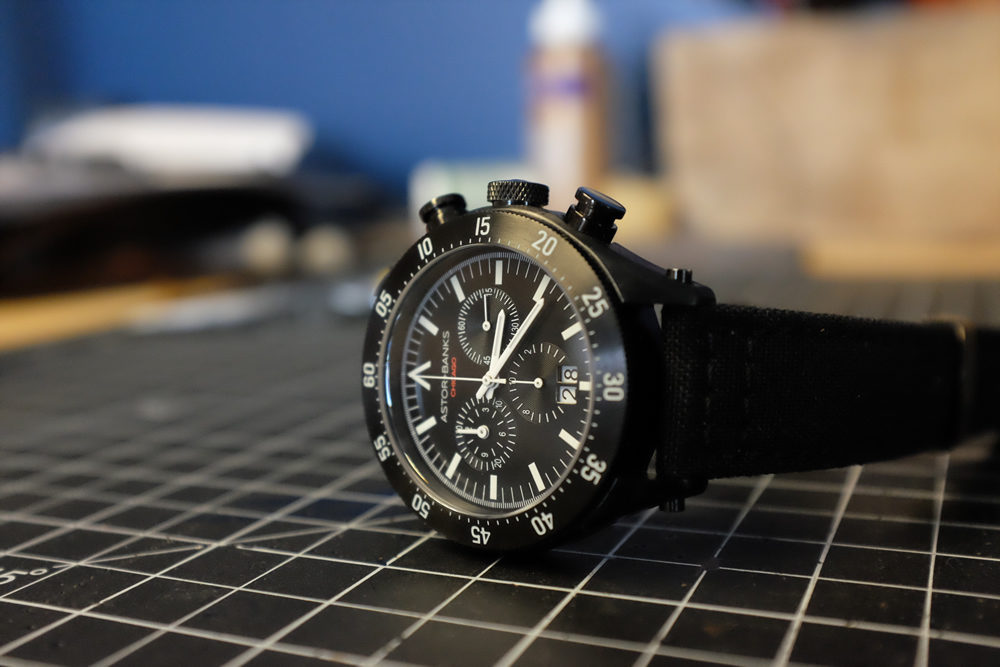 The watch market's currently being flooded with new entrants. You've got brands popping up left and right, so it's a really fun time for folks like us that really enjoy watches and love sharing the stories of brands and the people behind them. When we came across Astor + Banks during our last trip to Chicago, I'd say it was like finding a needle in a haystack, simply because their approach is so intriguing. They have a small studio / showroom right next to the Chicago River that houses all their current designs and doubles as a mini factory where each watch is assembled by hand. We got a chance to go a bit more hands-on with their Chrono S which features a beautiful design with a stainless steel case done up in black PVD and powered by a Swiss chronograph quartz movement. The straight Chrono's identical but without the black PVD shell. There's nothing "in your face" about it which is something we really appreciate, especially considering it's a larger 44mm case. The black face with white markings is tucked under a sapphire crystal while the brand also gives you a ton of watch strap options. We opted for a black canvas strap with a butterfly deployment buckle that was also done up in black PVD. Other options included Horween Leather Chromexcel, Cordura straps in black, tan, or army green, and even a black Kevlar strap that definitely caught our attention.
After wearing it for a week, we're still in love with the timeless design and can really see it being an entry way for a lot more folks to get into watches. When you see the rise of the "smart watch", those are purpose built and there's something to appreciate about them but we can't see them being for everyone. A mechanical watch is something that just doesn't become outdated. You don't have to upgrade the software. Just wear it, appreciate it, and enjoy it. Many will say these new brands lack history but I'd say there's still a story to tell. There's still a conversation to had about a small brand in Chicago making watches that are being appreciated by thousands of people already. Bucktown menswear retailer Apartment Number 9 is already carrying the brand and many others will jump on board as well. At $550 to $595, depending on how it's done up, we really don't think there are many worthy alternatives.
Another option from Astor + Banks is their AB1405 manual winding watch that retails for $2,000 and can be had with a range of leather strap options. It's got a 46-hour power reserve and is a really beautiful looking watch that can be customized with much more precision. We see it as bespoke watchmaking that's still way more accessible than most of the high-end luxury brands out there. Head on over to AstorandBanks.com and see all that they have to offer. And if you're in the Chicagoland area, then we'd recommend you reach out and visit their space. These guys love talking about watches just as much as they love making them.