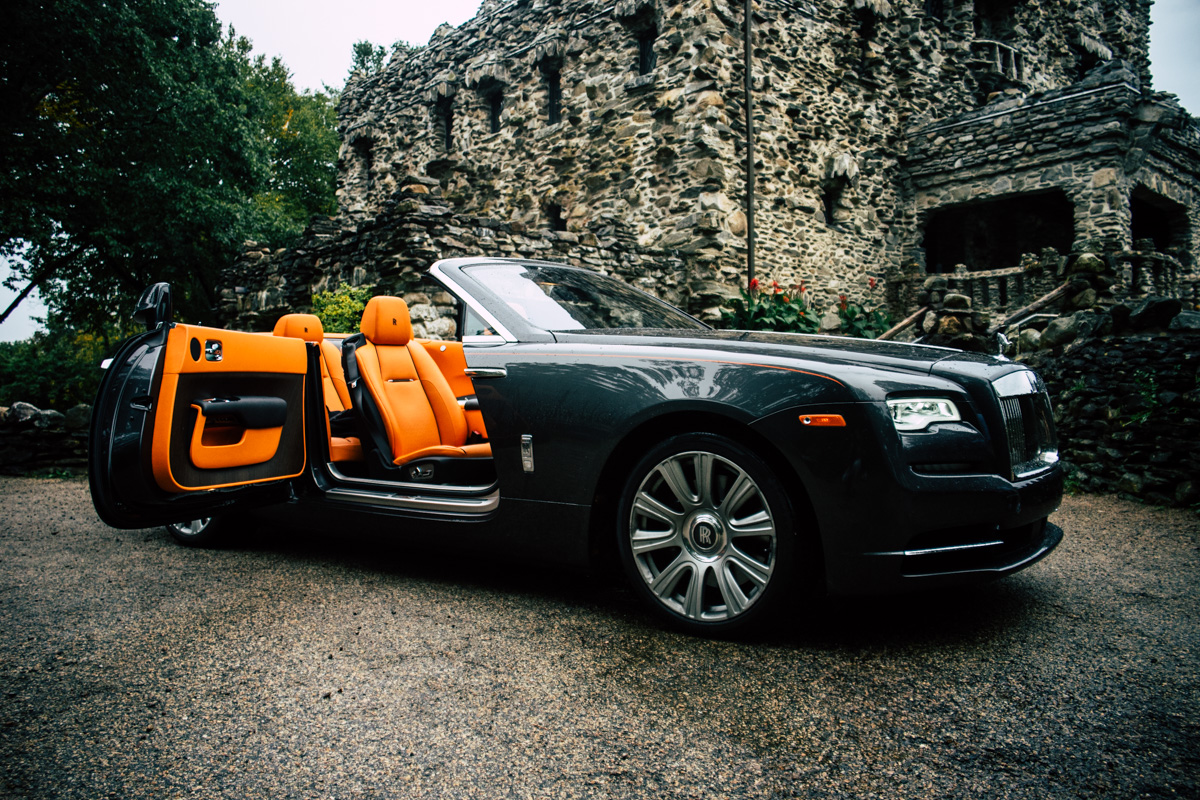 With The Rolls-Royce Dawn, It's About the Journey As Much As The Destination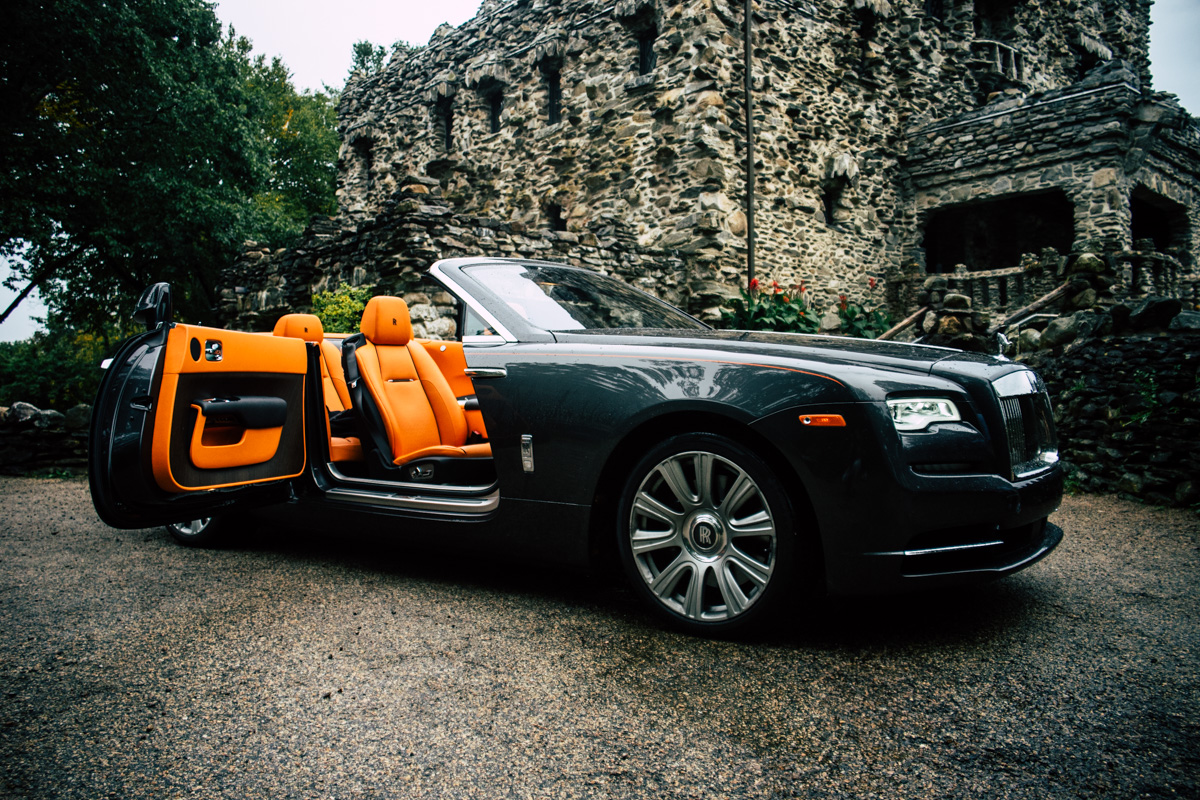 Photos by Atif Kazmi for Por Homme
Head to Newport, Rhode Island and you'll be met with a yacht-filled harbor, a community sprinkled with historic mansions, and some of New England's best dock-to-table dining. And though the city's visitors are some of this country's most affluent, the open-top, opulent-in-stature Rolls-Royce Dawn still manages to turn heads with very little care. It's actually pretty interesting if you slow things down a bit. Kids freeze mid-ice-cream-cone lick while adults lose their place in conversation, just to appreciate a rare automotive gem. And who can blame them really?
The car we drive is an extension of our lifestyle so you have to expect the best from all aspects of your daily life if you're going to invest in a Rolls-Royce. You have to enjoy the details, the quirks, the nuances. So when you stay at a boutique hotel like the Vanderbilt Grace in Newport that's set inside a mansion from 1909 and has respected the original build's historic integrity, that matters. And when you escape to their rooftop bar to catch the sunset, that matters. It's truly the little things that tend to make a big splash so while many might think of dropping the top on a successful coupe model as expected, shifting from a hard top to a drophead makes for a completely unique experience.
In fact, when compared to its stable mates, the Rolls-Royce Dawn features 80% unique body panels while still being quintessentially Rolls-Royce in more ways than we can count. In every detail, Rolls-Royce fails to compromise so you can expect a warm, inviting cabin when the top is closed and an exhilarating experience when the top is down. The deck is a work of art, being clothed in open-pore Canadel panelling that follows the horse-shoe shape of the rear cabin. The doors blend effortlessly with the long front wings and relaxed waft line, giving us a long body profile and a cosseted cabin. And still, the interior's extremely spacious and features beautiful wood work, rich leather from the steering wheel to the massager-equipped seats.
Get behind the driver seat, hop in as a passenger in the front, or slide to the back in a proper four-seater that provides plenty of space for all occupants. The "suicide" doors can be opened or closed with the push and hold of a button, and it might be the best way to do so when you've already gotten comfortable and can't reach for the handle itself. The top comes down in a matter of seconds, even if you're already on the go and driving at less than 31 mph. Even when exposed to all of nature's elements, seating up front makes for an effortless drive. BMW's iDrive system has been elevated in ways only Rolls-Royce can, allowing for a beautiful integration with the perfect color palette and display design. And voice recognition allows for inputting the address of your destination with ease. We were headed to Old Saybrook, CT.
It's a beautiful city that sits right by the water and there are a few different ways of coming to town from Newport. The fastest would be to hit 95 and shoot straight down but given that we were given free reign on what route to take and when to return, we opted for a more scenic route that had us on back roads for hours. We tested the cars touring capabilities, because comfort matters and it most certainly matters to the folks at RR. It's tough to get lost when you've got a beautiful, easy-to-manage navigation and phones in hand, but we were purposely taking wrong turns and forcing for constant re routes. The result was us landing on some of CT's most beautiful parks and using narrow roads with tight bends and constant elevation changes to get there. So if our time with the Rolls-Royce Dawn taught us anything, it's that the journey matters as much as the destination.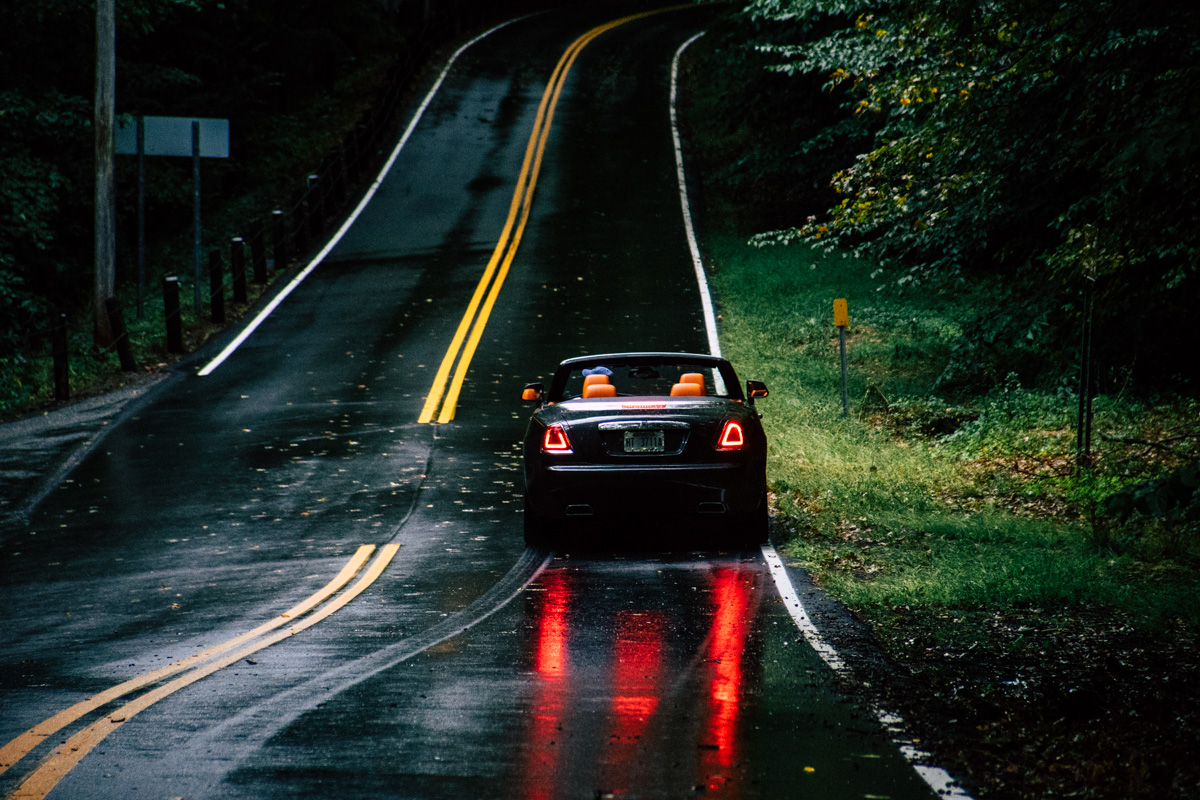 One of the Dawn's most impressive features is about what it lacks — buttons to set a performance mode. So while we may see cars that allow us to change the suspension from comfort to sport to sport plus via buttons by the shift lever, the Dawn adapts based on how you treat it. Push the pedal and things tighten up to ensure you stay the course, even at high speeds. Get relaxed and the Dawn ensures comfort is prioritized.
This Rolls-Royce drophead belongs anywhere its owner puts it, so even if we get "lost" and find a castle for the perfect backdrop or miss our turn and end up on a ferry, the Rolls-Royce Dawn simply belongs.