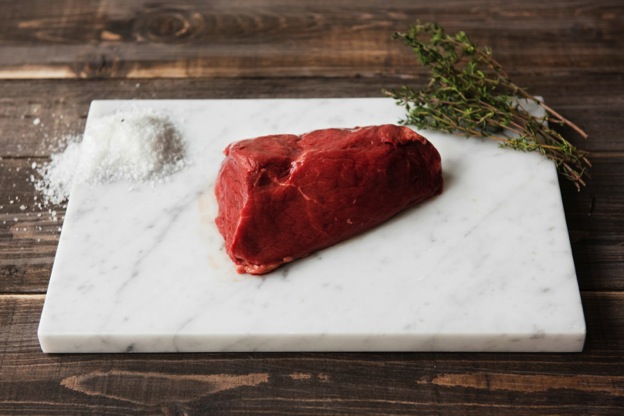 Presented by HelloFresh
I'm a good guy. I take care of myself, I have friends, and I'm totally eligible. But I think the thing that's keeping me a perpetual bachelor is my lack of kitchen game. After the gym, I usually hit my favorite takeout spots. I never feel full unless I carb-up. But I know that for the long-term, bingeing on carbs isn't enough to sustain a healthy lifestyle. One of my gym buddies said his wife started a subscription to HelloFresh, a meal-delivery service that allows you to cook a healthy dinner from pre-portioned ingredients in around 30 minutes. He said I should try it out. I'm never one to back down from a challenge.
I placed my order for the classic plan for two people (I can always eat for two). This included 6 weekly meals shipped to my door with everything I needed to cook a variety of dinners. I figured it was probably going to take me much longer to cook than the average Joe, since I had absolutely zero cooking experience besides a few grilling episodes back in college. But I didn't expect the first meal to be a New York Strip Steak with Truffled Mashed Potatoes and Green Beans Almandine.
I said a little prayer and got to work. Everything was clearly explained on recipe cards. I boiled the potatoes, then roasted the green beans with the sliced almonds. Then it said to cook the steak in a pan! I didn't know that you could even do that. But the steak cooked quickly, I made an easy sauce, and it was done. It definitely smelled good, but the proof was in the taste.
The steak had a delicious charred flavor that tasted just like I had grilled it. It didn't even need any salt, which I'm used to pouring on all my food. The mashed potatoes were creamy and earthy from the truffle, and the green beans had a nice little snap. I loved the crunchy almonds, too. The strangest part was I couldn't even finish it all, so I ended up saving the rest for lunch the next day.
Even for someone who's never really cooked beyond the grill, HelloFresh was an easy routine to get used to. After my first few weeks of using HelloFresh, I noticed I was not craving those carbs anymore. It was because I was eating so much more protein, fruits and vegetables that I was able to feel fuller, longer. HelloFresh kickstarted me into an even healthier lifestyle, and I feel like it also encourages me to make better decisions when I eat out. I may still be a bachelor, but I am so much more eligible now. I'm totally ready to bring someone home to dinner.
Update: The folks at HelloFresh are extending a special offer to our readers! Follow this link to get your first 3 meals free!