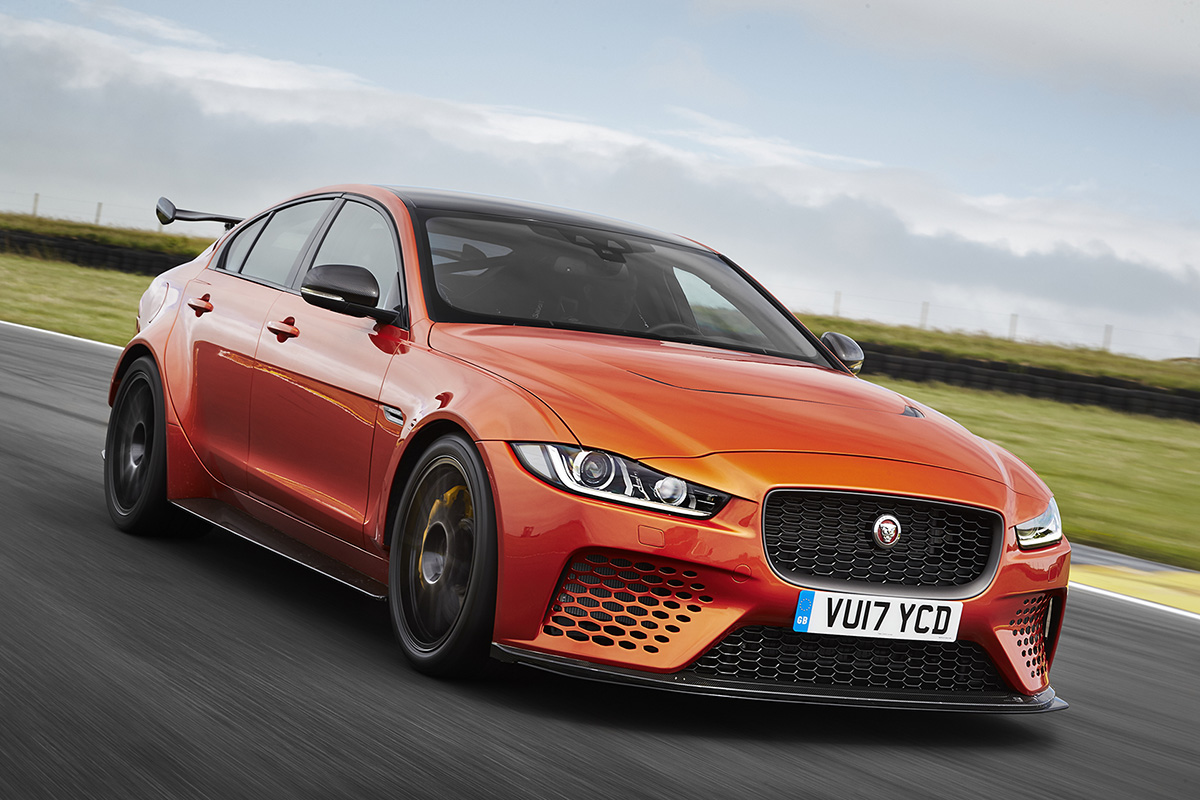 From Jaguar Land Rover Special Vehicle Operations comes the Jaguar XE SV Project 8, a wondrous performance sedan that features a ton of power, all-wheel drive handling, and aggressive, head-turning styling, even by Jaguar's standards. With 592 horsepower coming from a 5.0-liter supercharged V8, a 0-60 time of 3.3 seconds and a top speed of 200mph, this is the most extreme road car Jaguar's ever built. And though it's road-friendly, this leveled-up Jaguar XE feels at home on the track. You can manually adjust ride height, aero, and Intelligent Driveline Dynamics settings when you're ready to hit the apex. And if that wasn't enough, for the first time, Jaguar's applying a carbon ceramic brakes and F1-style silicon nitride ceramic wheel bearings.
The Project 8 simply commands attention with its flared bodywork and aggressive stance. It's also been able to drop a ton of weight by introducing a carbon fiber bumper with unique cooling ducts, vented CF hood, rear CF bumper, and much more. Step inside and you're met with gloss carbon fiber trim and a healthy dose of Alcantara expanding from the Project 8 Sport steering wheel to the instrument panel and door panels. Jaguar's Quickshift transmission can be operated by aluminum paddle shifters or by a central Pistolshift lever. The Project 8 will be available in two- and four-seat specs, with North America getting the four-seat model that's fitted with Jaguar's latest magnesium framed Performance seats. An optional Track Pack includes lightweight front CF racing seats with four-point harnesses.
The XE Project 8 is also the first Jaguar to feature a dedicated Track Mode, which helps with driveline and stability control systems aimed specifically at circuit use. Chances are we'll keeping this on on the open road as well, just to take advantage of the sharper throttle and steering responses.
The Jaguar XE SV Project 8 is the first model completely hand-assembled by SVO at the new SVO Technical Center in the UK's Warwickshire. Only 300 examples will be offered globally, all exclusively left-hand drive. The Project 8 is offered in eight different exterior color options but owners will also get access to the SVO Premium Palette range which offers up 19 more colors.
The Project 8 has made its debut today at the Goodwood Festival of Speed. Check it out in the gallery above.