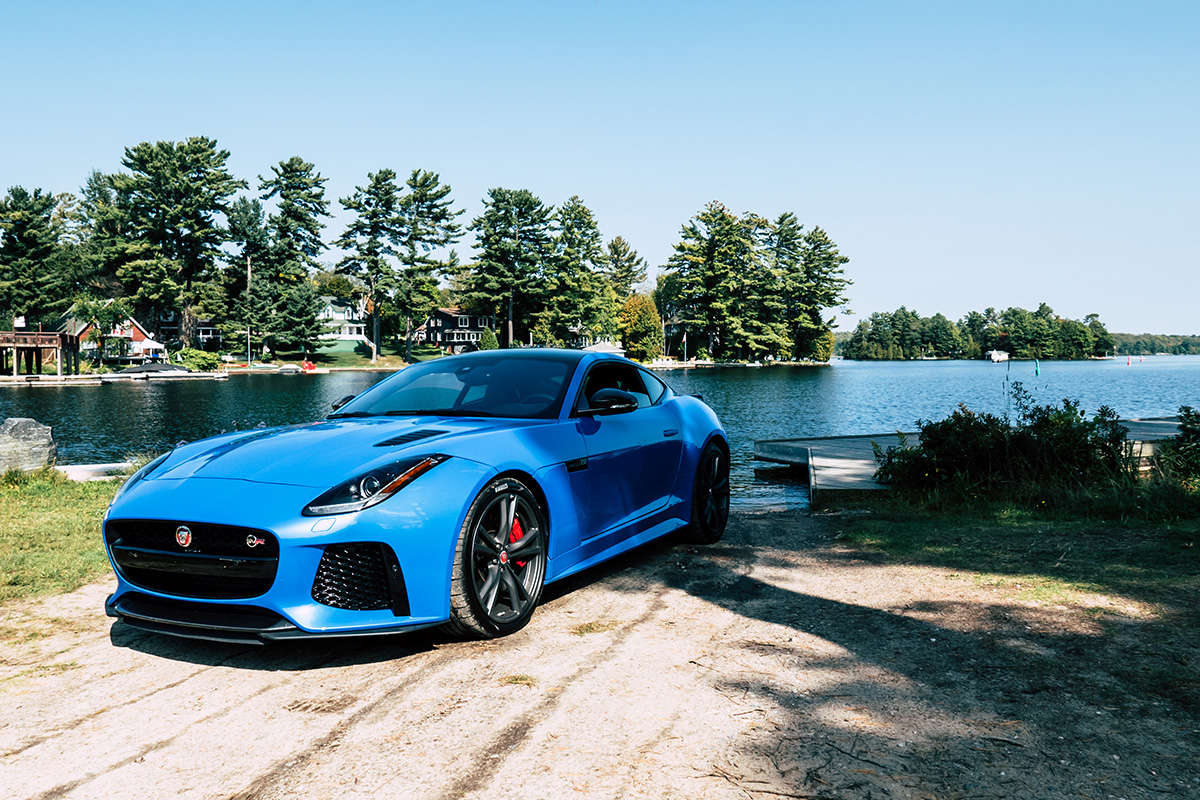 From Its New Four-Cylinder Variant To The SVR, Jaguar's 2018 F-TYPE Lineup Is An Exhilarating Joy Ride
Images by Atif Kazmi for Por Homme
It seems Toronto's had a pretty gloomy summer. For the most part, the weather's been wet, cold, and downright depressing but that wasn't the case just a week ago when we took a trip out with Jaguar Land Rover to experience the Invictus Games. For those not familiar, the Invictus Games is an international Paralympic-style multi-sport event which sees wounded, injured or sick armed services personnel from fifteen countries compete across a range of sports and competitions. The Invictus Games was founded by Prince Harry and with Jaguar Land Rover signed on as presenting partners since day one, the competition continues to reignite the fight and spirit of all those competing.
And this time around, Toronto may have been the perfect backdrop. Summer had finally arrived and gave the city some tremendous weather leading up to opening weekend, which also made it ideal for testing out the 2018 Jaguar F-TYPE. We took a quick seaplane flight from the city's Billy Bishop airport up to the Deerhurst Resort in Hunstville, ON. This gave us more than two hundred kilometers to cover in a few different F-TYPE variants, including their new 400 Sport as well as the gut-wrenching SVR, with both offered up in coupe or convertible. This wasn't a straight shot. There were lakes and undeveloped areas that separated us from downtown Toronto where we were staying. But the winding roads of Ontario are just what you need to test out all the bits that make Jaguar's latest F-TYPE so darn enjoyable to drive.
We actually just had the F-TYPE SVR Convertible for a few days this summer so I've gotten pretty acquainted with the 575-horsepower beauty. The LED headlamps and the overall front end design that's built around them is aggressive, yet purposeful, while the body's lightweight aluminum construction helps to make the F-TYPE as athletic as it is alluring. Sure, give any car nearly 600 horses, an all-wheel-drive system and a quick gearbox and you might be on to something but the F-TYPE's more than that. The way it grips on tight corners, the refined detailing of the interior, the way its wing pops up for some much welcomed aero support. And the way it growls. Holy. The F-TYPE SVR's lightweight Titanium and Inconel exhaust system cuts weight while helping to make the SVR one of the best sounding non-naturally-aspirated V8's ever.
But don't think the fun's just limited to the AMG GTS-eating SVR. Jaguar's been able translate this exhilaration to the entire F-TYPE lineup, with its new 296-horsepower, four-cylinder variant included. Of course, the main differentiator tends to be the power output but if you're looking for a specific type of drive, say rear-wheel mated to a manual transmission, you'll have to look beyond the SVR as neither is an option here. For that, the British automaker's supercharged V6 will be your best friend and treat you as good as the chart-topping V8 of the SVR. And although I've fallen completely in love with the SVR's exhaust notes, the F-TYPE's sports exhaust still delivers a ton of snap, crackle, and pop for a fraction of the cost.
Ian Callum and team have done a tremendous job designing a performance roadster that has and will continue to inspire the design direction of present and future Jaguars. The 2018 E-PACE is the latest example of this and it's a compact SUV that's already getting a ton of praise. And while many automakers are shifting away from the enthusiast market to appeal to a wider audience, Jaguar's still making drivers' cars that still strike us to our core at every push of the pedal.
Check out the gallery above for more shots from our time with the 2018 Jaguar F-TYPE lineup and head to your local Jaguar showroom to see it in person.