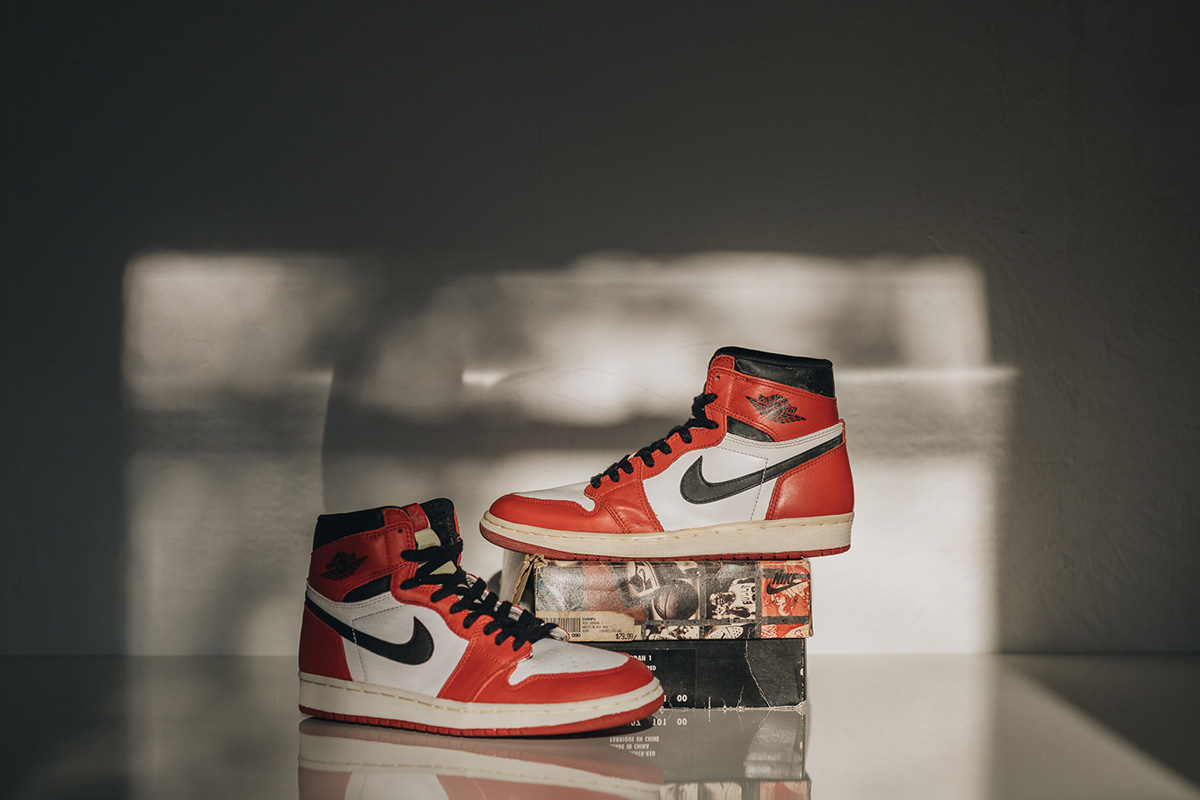 Where The Rare Things Are | '94 Air Jordan 1s And The Hunt For The First-Ever Jordan Re-Release
Presented by eBay
'Where The Rare Things Are' is an ongoing content series partnership between Por Homme and eBay, shedding light on the process of hunting for hard-to-find items through the online marketplace.
I have to admit, when I was growing up, Jordans just weren't something I could always afford. And though I've been fortunate enough to have my fair share of them now, there's one pair that just never made it into my collection. I wasn't even born when the original Air Jordan 1 released in 1985 and probably too young to direct my interest towards sneakers in 1994 when they re-released for the first time ever. To be honest, no one did. The '94 'Chicago' Air Jordan 1s sold so terribly that they could be found on sales racks everywhere for as low as $20. Oh, if we could turn back the clocks now. But the 2000s is when the love for Jordans and sneaker collecting in general really began to pick up some steam. When the Jordan 1s re-released again in 2013 and 2015, the 'Chicago' Jordan 1 was in high-demand and fueled a ton of Jordan's position as a lifestyle brand. Outfit grids on social frequently featured the 1s alongside the perfect streetwear outfit and more and more celebrities were blending them into their wardrobes.
But for the OGs that grabbed them in '94, the 2013 re-release was a lot of, "Well, they're not the '94s!" And now, sitting here decades later with the '94 1s in my hand, I'd say they were right. Though Nike and Jordan Brand have tried their best to keep re-releases as close to the original makes as possible, there's also a need to work with source materials available now while slightly tweaking things just a little bit to keep things interesting. Of all the Jordan 1 re-releases, the '94 Air Jordan 1 is the closest to the original. The length of the toe box, the "Nike Air" script on the tongue, and just the overall construction of the sneaker are near identical to the first pair of Jordans Number 23 ever wore.
Now, regardless of how poorly the '94 re-release of the 'Chicago' Jordan 1 sold, to own a pair of them now would be a dream come true. To own a deadstock pair that's never been worn, that came in the original box and all other accompaniments would be a complete home run. In fact, the original box of the '94 Chicago 1 might actually be the coolest.
There isn't a number you can call or a consortium you can visit to find something as rare as a deadstock pair of Jordan 1s that are over twenty years old. But there is eBay, the only place I could think of that could have someone with a pair that he or she might be tossing on the open market. Forget the fact that I wanted an unworn pair; there were only a handful of broken-in ones, many of which without the original box. But before I resorted to any of those, I decided to create an alert on my search and just monitor things over the next few weeks to see if I could get lucky. I looked at every alert that came and was pretty close to giving up. But on one Sunday morning, a search alert blessed me with exactly what I was looking for.
It's not my first rare find on eBay and it certainly won't be my last. I'm going to keep thinking of all the things I missed from years past and then turn to eBay to see what I can find. To be honest, the hunt is as enjoyable as actually getting the final product in my hands. Question is, what are you hunting for?