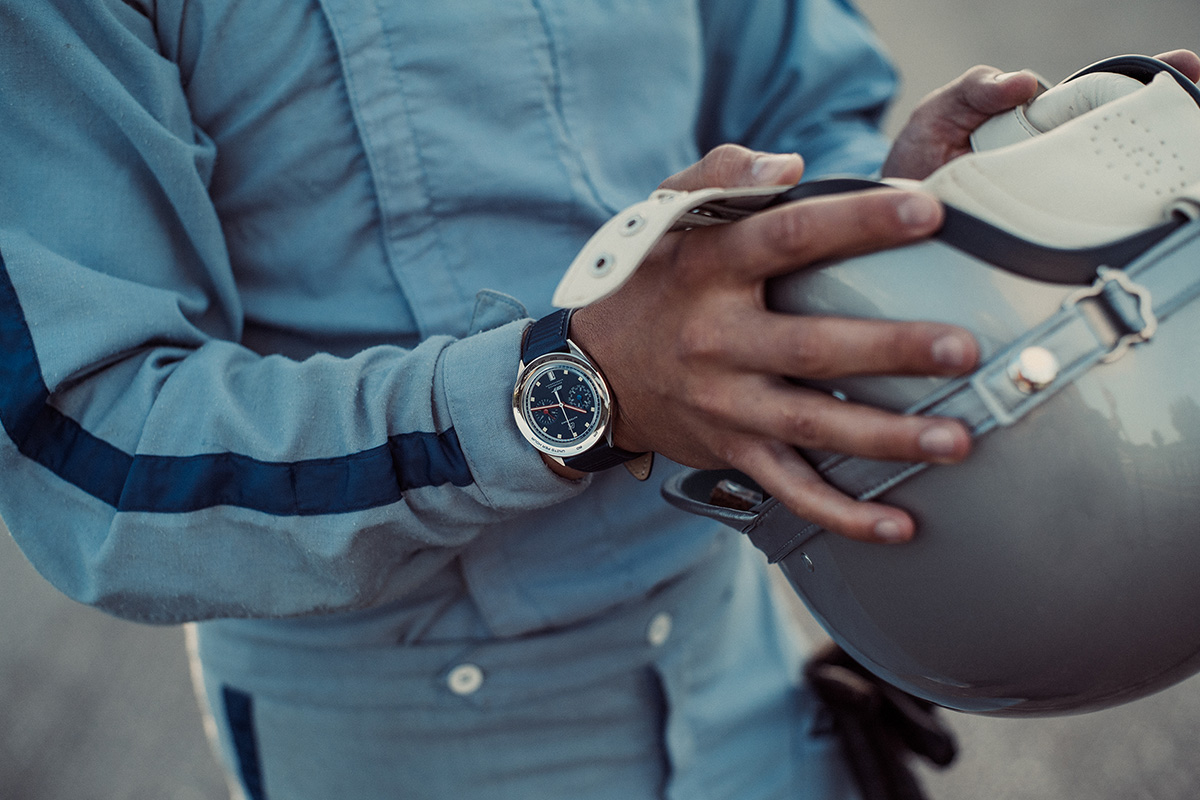 Autodromo, the New York-based watch brand inspired by automotive and racing heritage, has partnered with Ford to create two official watches for the latest generation of an American icon — the Ford GT. Over the years, not only have Autodromo founder Bradley Price and his team consistently made some beautifully designed — and crafted — timepieces, but they've also become historians and impeccable storytellers of the golden age of motoring. When conversations first started, Ford's then North American Design Director Christopher Svensson saw Bradley's passion for design and automotive, which made the desire to work with Autodromo to build these unique timepieces an easy decision.
The end result is two watches: one being a customizable high-end piece that's exclusively available to owners of the Ford GT while a second design celebrates the endurance racing heritage of the Ford GT and is available to all, just in time for the Holiday season. The Autodromo Ford GT Endurance Chronograph is a 1960s-inspired racing watch that highlights Ford's dominance at Le Mans, most notably its wins at the iconic 24-hour race from 1966 to 1969. Fast forward to 2016 where Ford repeated at its first attempt, winning the GT class with the latest Ford GT racing car.
The 40m watch comes in stainless steel and features five colorways, with a few pulling inspiration from Ford's victories at Le Mans alongside a classic blue and white Ford racing stripe color scheme that's sure to appeal to many Ford racing fans. With a Japan-made Seiko Meca-Quartz chronograph movement inside and a domed sapphire crystal, the Endurance Chronograph also features a genuine leather strap with an Autodromo logo signed buckle to finish things off.
And then there's the Owner's Edition Chronograph, a 43mm Flyback chrono that can be customized to match each owner's car and will have a serial number matching the car's chassis number. Customers will get to build their watch through a private configurator website while the Ford GT concierge team will on-hand to help customers with the spec and production process of both their car and their watch. Again, this process showcases how seamless the experience has been made by both Ford and the Autodromo team. And like the Ford GT itself, no detail has been overlooked in the making of this Swiss Made flyback as it's multi-layered sapphire crystal dial and ceramic case make it a must for every GT owner.
Check out the Autodromo Ford GT Endurance Chronograph in the gallery up top and head to Autodromo's online store to pre-order one now. As for the Owner's Edition Chronograph, expect this to launch in the Spring of next year.