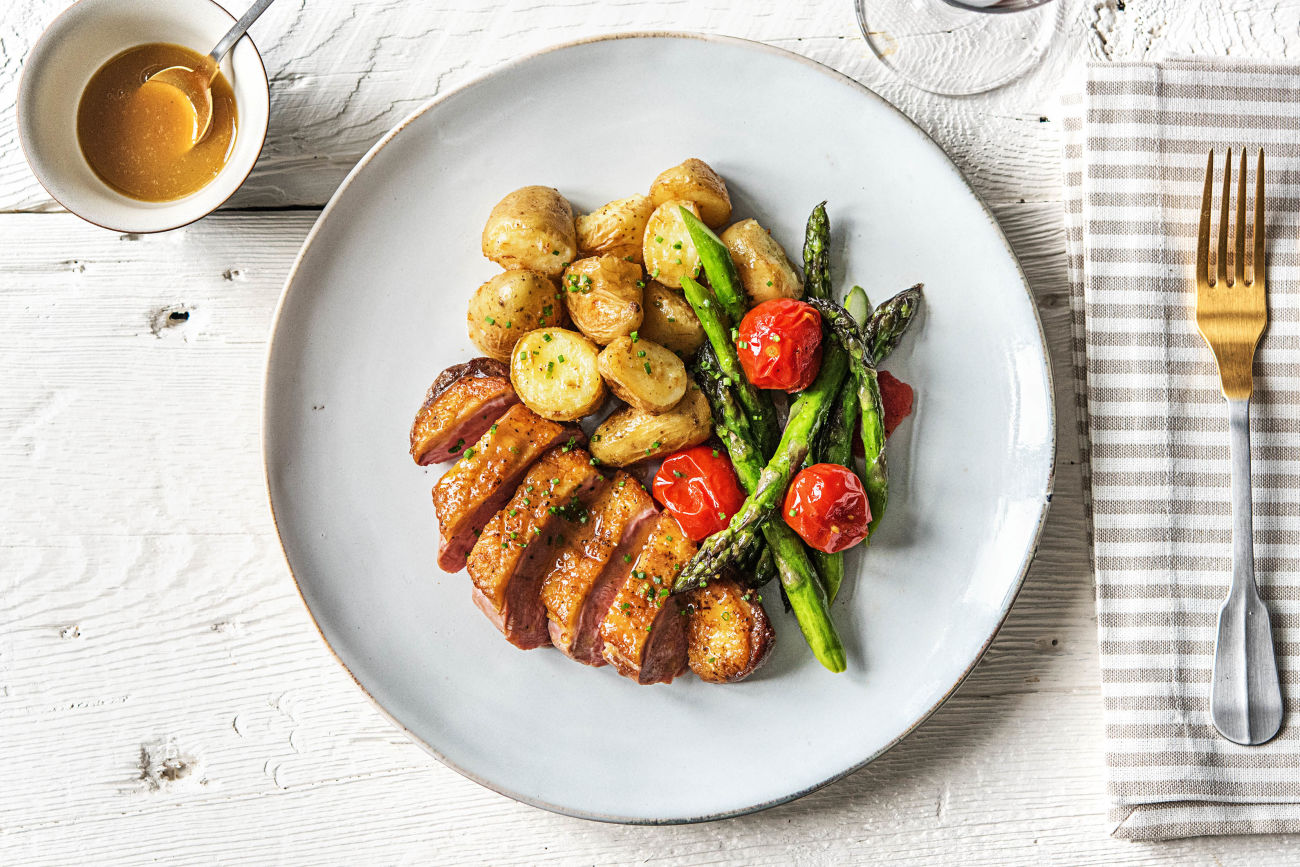 Presented by HelloFresh
My wife and I love to cook, but hate grocery shopping. It seems like for any new recipe we want to try, we're either missing an ingredient or a don't have a specific spice required. With the explosion of home delivery meal kits lately, it seems like everyone we know is using this service to add variety to their meals. So we decided it was something we wanted to try for ourselves. Last year, we signed up for HelloFresh on a friend's recommendation to have meal kits delivered to our home. Besides the convenience of not hunting down specific spices in a grocery aisle, we made some fantastic meals right in our own kitchen. We've been using HelloFresh for the past six months and here are our top 5 favorite meals from 2017.
Figgy Balsamic Pork – I knew pork went well with apple sauce, but never thought about using figs. Turns out, it's a real winning combination. After cooking the pork, we made the balsamic and fig sauce using the same pan, which made for a sweet, yet savory sauce that pairs perfectly with pork tenderloin. And I now know why figs are a treat.
Tropical Fish Tacos – Who doesn't love fish tacos? I wasn't sure what to expect from a meal kit service, but I was pleasantly surprised. The recipe was easy, the fish was flavorful, and the cabbage and mango slaw added a great crunch, freshness, and sweetness to complement the fish. My only complaint: cutting mangos is hard – cutting them into matchsticks is difficult. But it was worth the try because they gave the tacos a twist.
Prosciutto Wrapped Chicken Breast – This was a fun one, and one of HelloFresh's premium meals. Of the two chicken breasts, I wrapped one of the cutlets perfectly, the other one…I can at least say I tried. I felt like Gordon Ramsey after all was said and done, but way less angry. The chicken was cooked and tender, the prosciutto wrapping made for a great crispiness and texture. We really enjoyed that dinner.
Creamy Shrimp Tagliatelle – We love pasta, and we love shrimp, so this was already a winning combination. It's also one of HelloFresh's faster recipes at around 20 minutes of cook time. The pasta was the perfect amount of creamy, and the shrimp had a bit of bite and bright flavors. The lemon really shined and cut through the richness of the sauce, and the cherry tomatoes added a little bit of sweetness and color to the dish.
Pan Seared Duck – The duck was another "premium" offering that we wanted to take a stab at. I'd never cooked duck before and always wanted to try it. I was a little nervous at first, but the instructions for the recipe made for perfectly crispy and cooked duck that was to die for. It also made for a great mouthwatering Instagram post afterward where I could show off my cooking skills. I never would have imagined we'd be cooking duck — a big step up in our chef skills.
Since starting HelloFresh , my wife and I have cooked over thirty meals together, and have enjoyed every last one of them. Not only is it great to be cooking a delicious meal by ourselves, but it's an enjoyable way for us to spend time together after a long day at work, or to cap off a packed weekend with an easy Sunday night dinner. There are so many different meals to choose from, and I'm always excited see what we'll have next. Getting HelloFresh was one of our best dinner decisions for 2017, and we're looking forward to trying even more meals this year.
Update: The folks at HelloFresh are extending a special offer to our readers! Follow this link to get your first 3 meals free!