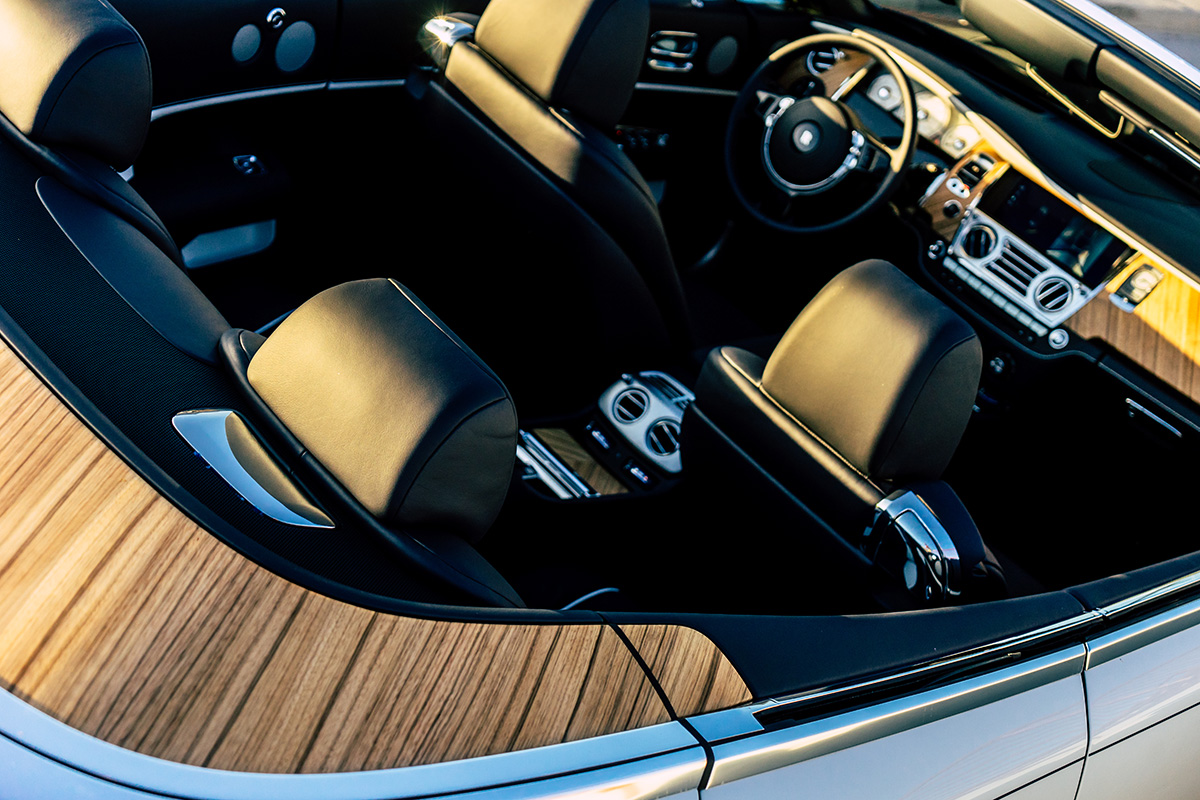 With Its Yacht-Inspired Veneer Work, This Rolls-Royce Dawn Belongs In The Summer Sun
Photos and words by Atif Kazmi for Por Homme
When I think of LA, palm trees and Rodeo Drive immediately come to mind. Both for obvious reasons I suppose but it's a backdrop that doesn't fatigue and experiencing the vast city in a Rolls-Royce Dawn reminded us of just how alive LA is in the summer, even when all you're doing is watching the sun set. There's something effortless about this city but maybe that's why we appreciated the Dawn here so much. That even while understanding and appreciating all the work that goes into making the drop-top Rolls, its presence is so confident that they've made building the most refined drophead coupé on the market look easy.
Fold away the canvas roof in just 22 seconds and there's nothing standing between you and the summer sun. Fine leathers come from hand-picked hides and farms while there's a high level of scrutiny to ensure only the best leather ends up making it into a Rolls-Royce. With the interior of a Rolls-Royce Dawn on display for the world around it, there's an even greater need for the folks at Goodwood to adhere to such precise standards.
Light hits the wood work like it would a mega yacht's trimmings on the open sea and connecting the two is quite natural when you get a bit closer. It can take up to 46 pieces of wood to complete a Rolls-Royce interior with the level of detail and craftsmanship on par more with that of super yacht than with another car. The Rolls-Royce Woodshop team are responsible for the unique pieces of wood you see throughout any Rolls-Royce while one person is charged with traveling the world in search of the finest wood available to man. There's a deep connection between the buyer, the Woodshop team, and the end result. Everyone has a tremendous hand in what we eventually see on the road and there's nothing really quite as intimate when it comes to buying a vehicle (or even a super yacht).
Driving the Rolls-Royce Dawn is a personal experience even with all the attention its beauty and presence tend to garner from the outside world. The way it feels, the way it maneuvers and ultimately the places it can take you. As much as the Dawn is a work of art on wheels, it's also something that frees you from all that's happening around you. And that might be its greatest feature.
Check out visuals from our time with the Rolls-Royce Dawn in the gallery up top and head to a Rolls-Royce showroom to experience it in person.