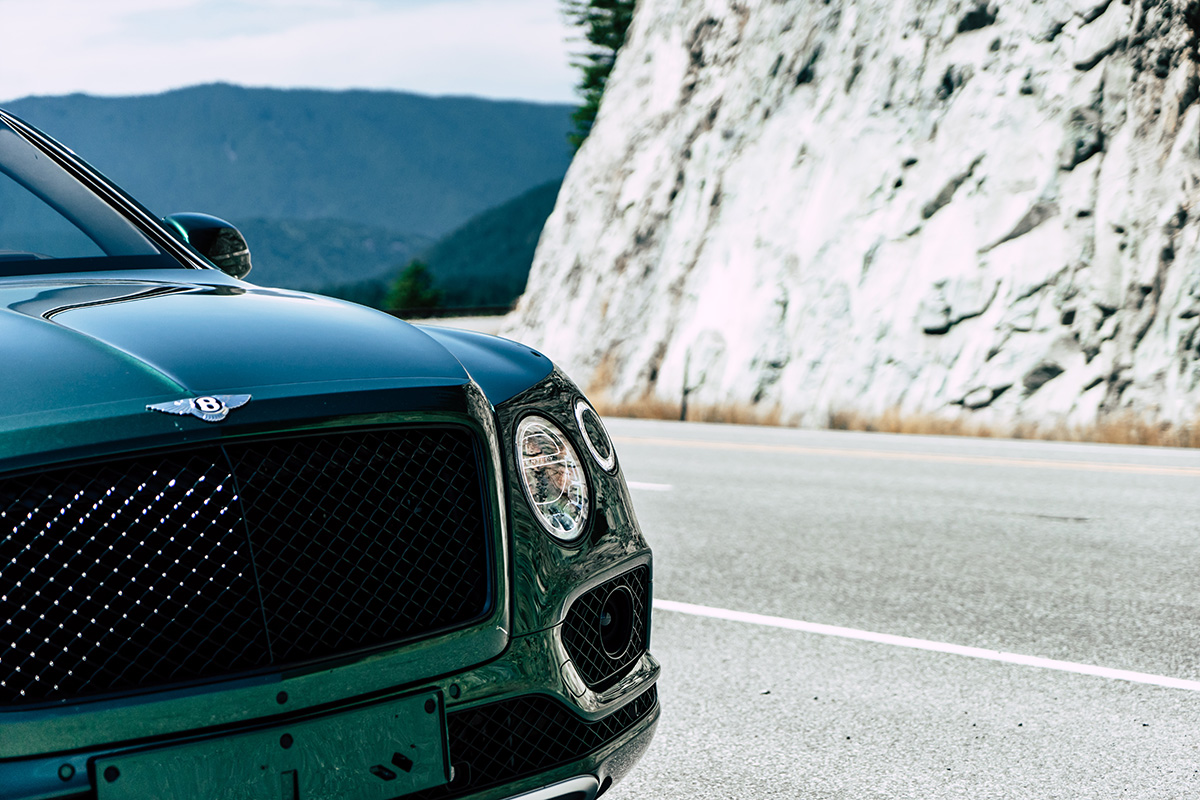 The 2019 Bentley Bentayga V8 Doesn't Sacrifice Ultra-Luxury, It Makes It More Accessible
Photos and words by Atif Kazmi for Por Homme
I've been to Portland a few times over the years but surprisingly enough, it's never been to see hometown heroes like Nike or adidas. It's usually to experience what the Pacific Northwest has to offer both inside and outside the confines of this bustling city. The evolution's been fierce and just in the last five years, I've witnessed Portland turn into a destination for those looking for a sort of duality that very few places can offer.
And this explains why I was here this time with Bentley, a brand that prides itself on all the luxury and detailing that goes into each and every vehicle that comes out of Crewe and blending that effortlessly with performance numbers that will drive you insane. We talk about it often — this mix between luxury and sport — but there's aspirational youth in the feeling you get behind the wheel of a Bentley. This also trends right into their SUV, the Bentayga. It takes all these native elements we've come to expect from their sedans and GT's and puts into a beautiful and versatile SUV. It's more nimble than you'd expect from a full-size SUV and the off-roading capabilities make it the perfect all-season companion. Of course, I'm speaking from experience.
The British automaker has now introduced the Bentayga V8, a smaller-engine variant to the highly successful SUV and one we had the opportunity to spend a good amount of time with in and around Portland. The main — and what feels like the only — difference between the top-shelf Bentayga and the Bentayga V8 is the power transplant. Bentley's swapped the 600-hp, 664-lb-ft twin-turbocharged 6.0-liter W-12 engine with a twin-turbo 4.0-liter V-8 which still churns out 542 horses and 568 lb-ft of torque. On paper, the variance is minimal but driving it around the winding roads surrounding Mt. Hood showed just how confident Bentley's latest offering can be. The handling is tighter and given that it's shed some pounds and is still mated to the same eight-speed automatic transmission and all-wheel-drive system you'd find in the W12 variant, the changes in acceleration and responsiveness aren't even noticeable. What is noticeable is the Bentayga V8's increased redline to 6,800 RPM and the exhaust note, one that burbles just perfectly right out the V8-specific's dual twin-tip tailpipes.
Bentley constantly urges its customers to experience luxury with an unparalleled level of intimacy. From the bespoke options offered to customers when the vehicle's being built to the eight driving modes you can pick from when driving the Bentayga on- and off-road, there isn't a moment that isn't tailored to you. And that's really special.
For city dwellers, the Bentayga V8 might actually be the best of all worlds. We get the design and styling of the highly successful Bentayga in a more efficient powertrain that's probably the better option for horrific stop-and-go traffic we probably won't be able to escape. The interior refinements and tech updates here are the latest and greatest next to the all-new Continental GT's. Who's up to run around the city in this and then make a quick exit to Upstate or beyond for the weekend?
The Bentayga V8 isn't going to be taking away purchases from the top-shelf W-12. Instead, by sticking to their standards and creating a V8 variant that sits at $165K USD, what Bentley has done is made ultra-luxury more accessible.