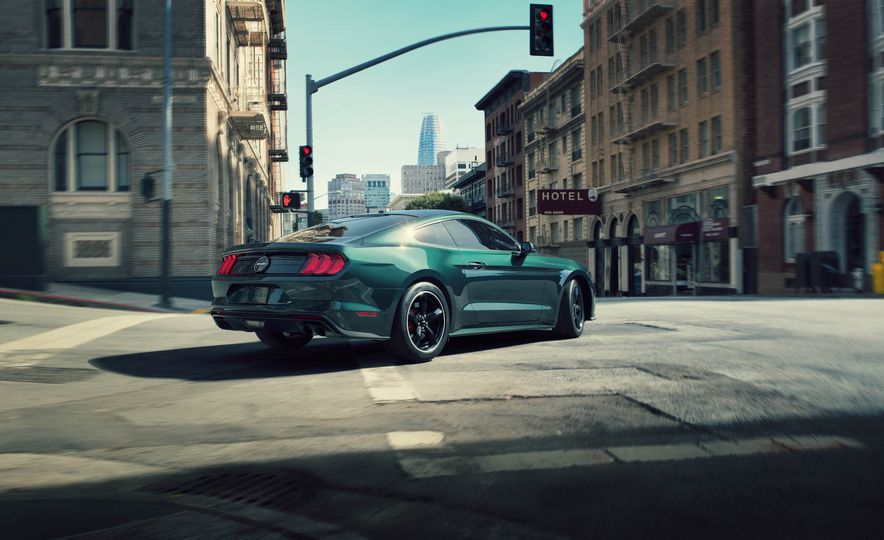 In 1968, the Ford Mustang GT, driven by none other than Steve McQueen, roared onto screens everywhere with the release of the movie "Bullitt". Now, 50 years later, Mustang is releasing an updated version of the car for the film's semi-centennial anniversary. Ford will release the new Bullitt for two years – 2019 and 2020 – and it will be available all around the United States. We took a trip to San Francisco recently to not only drive it firsthand but to also soak in all the memorable moments of the film, including that iconic drive chase that even future generations will appreciate.
Starting immediately under the hood, the 2019 Ford Mustang Bullitt is designed with a 5.0-liter Ti-VCT V8 engine, providing 460 horsepower and 420 pound-feet of torque. Six-speed transmission and rear wheel drive are included for a dynamic driving experience. New and improved is the recalibrated active exhaust and an open-element filter so no longer is noise pumped into the cabin; and the powerful speakers fill in some of the missing sound. Ford designed the 2019 Mustang Bullitt to be very much a driver's car, so there are six modes to choose from: Normal, Sport, Track, Snow/Wet, Drag Strip, and MyMode – a fully customizable driving option. All driving modes complement the 19″ 5-spoke wheels and Ford custom summer-only tires that are standard.
On the inside of the car, there is a 12″ Digital LCD screen that serves as the instrument cluster, which is fully customizable in terms of both colors, layouts, and driving modes. Ford wants to give you the best driving experience for you, and that starts right at home in the car. Leather interior seats come standard but can be upgraded to RECARO® Leather Sport Seats for $1595. The driver's seat specifically can be upgraded to a Memory seat that has 3 customizable settings and mirrors with ambient lighting.
To soup up the technology inside the car, Ford invites customers to upgrade to the Bullitt Electronics Package which includes a blind spot information system, cross-traffic alerts, a Bang & Olufsen premium sound system with 12 speakers, a touchscreen navigation system, and the Memory Driver Seat. Ford put a lot into the interior of the car already, so the customization options are a little slimmer than usual, but that serves Bullitt well.
You can drive, customize, and purchase a 2019 Mustang Bullitt now at your local Ford dealer or online.