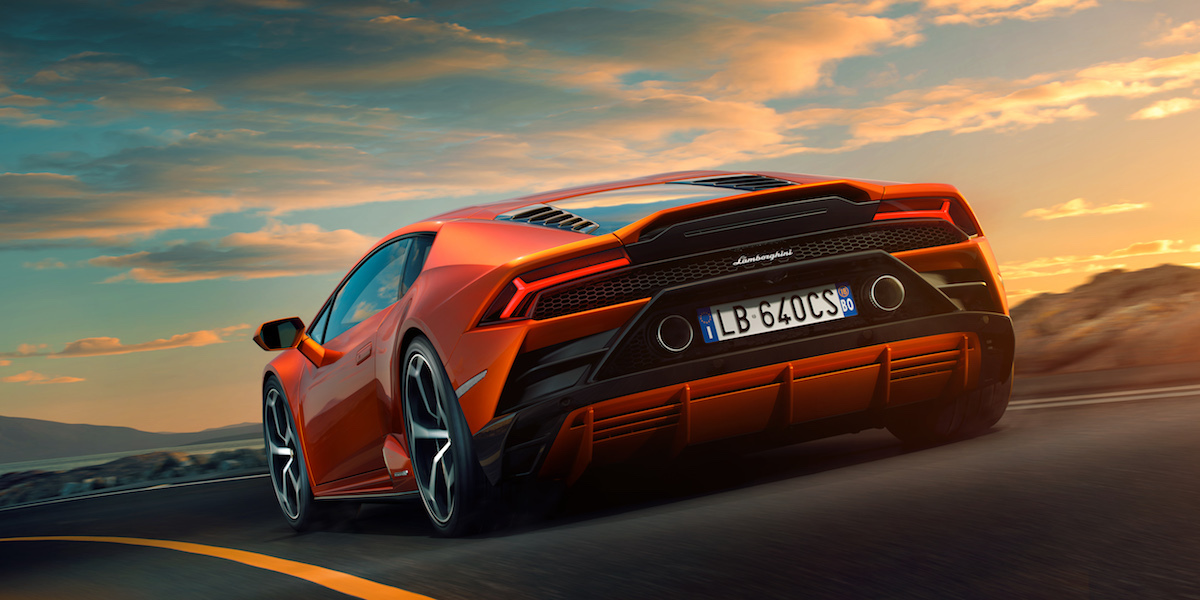 Lamborghini Huracan Evo Gets Integrated Rear Wing, the Performante's V10 and Then Some
Introducing the Lamborghini Huracan Evo, a mid-cycle refresh of the Italian supercar maker's highly successful V10 thoroughbred. And though you might've expected just a few minor tweaks here, seems Lamborghini's really outdone themselves with the Evo. There are enhancements throughout the interior and exterior with the highlight coming in the form of an integrated, slotted rear spoiler. Other aero upgrades include a new front bumper with a front splitter and new side air intakes, all helping to increase the Evo's downforce and aerodynamic efficiency by more than 5x over the first-generation Huracán. There's also 640 horsepower and 442 lb-ft of torque coming from the Performante's 5.2-liter naturally aspirated V10. Couple those together and we get a Huracan Evo that can go from 0-62 mph in just 2.9 seconds as it catapults to a top speed of 202 mph. You'll hear it scream thanks to new titanium intake valves and a revised, lightweight exhaust system.
The Huracan Evo sees a lot of upgrades on the tech front as well. It's all-wheel-drive with rear-wheel steering and a torque vectoring system that manages the four wheels. Lamborghini Dinamica Veicolo Integrata, the central processing unit that functions as a nucleus for all of the Evo's dynamic systems, can anticipate your next move and will adjust the support based on the driver's needs. Updated accelerators and gyroscope sensors come in the form of Lamborghini Piattaforma Inerziale 2.0, which helps to improve monitoring and reaction times. Lamborghini's brought in a new advanced traction-control system here as well that's able to direction all the traction to a single wheel when needed while steering's tweaked to provide higher responsiveness in corners, coupled with the rear-wheel steering to ensure agility at low speeds and maximum stability in high-speed cornering and under braking.
As mentioned previously, there are a ton of design edits here. The twin exhaust tips at the rear sit alongside the license plate in the back while the car's windows and 20-inch wheels both feature Lamborghini's hexagonal design references. Inside, the center console's fitted with a new 8.4-inch touchscreen that controls the seats, climate, infotainment and the LDVI system. Fine detailing includes leather and Alcantara thhroughout with Arancio Dryope to match the new Arancio Xanto four-layer body color.
The Lamborghini Huracan Evo will be getting to showrooms this spring with a starting price of $261,274 before optional interior carbon-forged composites and carbon skin materials are factored in.