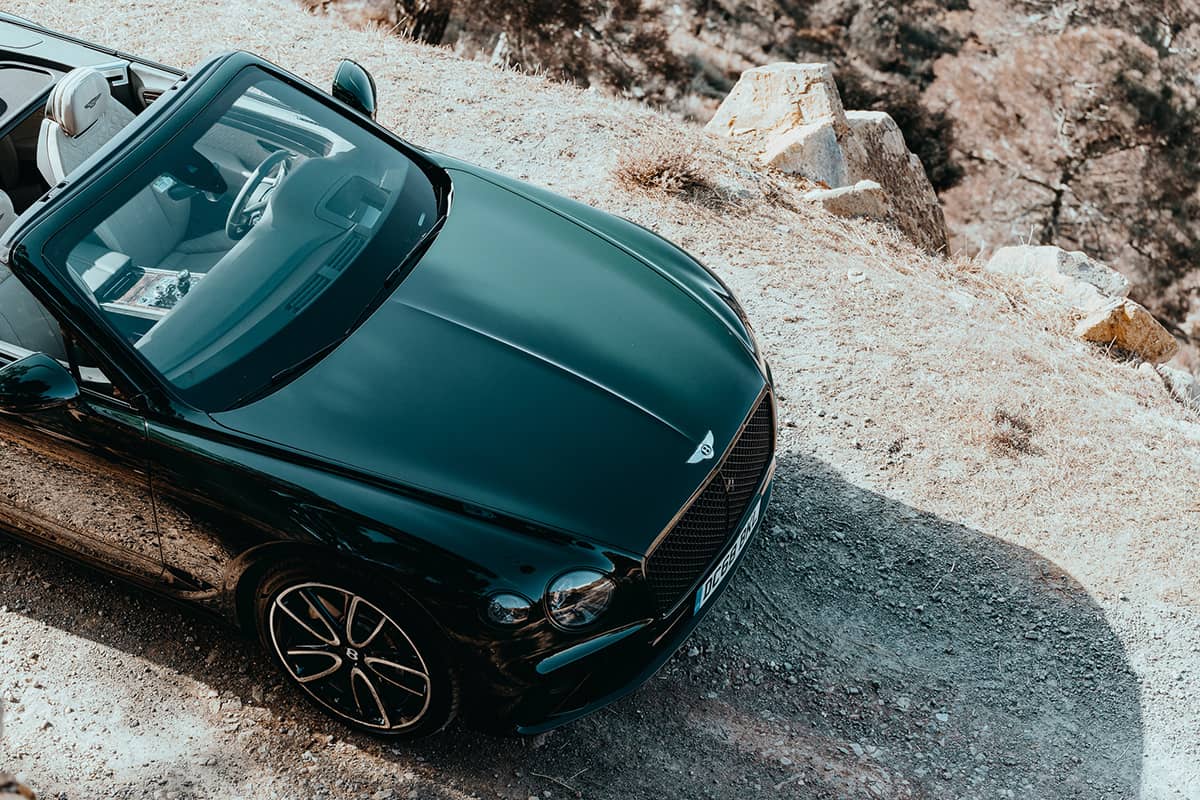 Words and photos by Atif Kazmi for Por Homme
For as long as we can remember, the thought of buying a convertible meant a trade-off. Sure, you'd get an exhilarating, open-air experience that only cabriolets can deliver but it would come at the expense of performance and, in many cases, presence. With the 2019 Bentley GT Convertible, the folks at Crewe give us a drop-top Grand Tourer that simply isn't looking to compromise. With a trip to Spain's Andalusian region, we not only experienced the new Bentley GT Convertible, but were also reminded of just how much the journey matters.
The launch of this Grand Tourer deserves a grand tour and so we got the opportunity to tack on nearly 500 kilometers as we journeyed between Marbella and Seville. Rolling greens with elevation-shifting straights and endless bends up the A-397, we kissed hills and the clouds. And through it, we fell in love with convertibles or maybe just this one.
And how could we not? The sun hits off one of the finest interiors known to man with each detail continuing to write a history that's just months from spanning one hundred years. Each element of this and every other Bentley on the road takes tremendous amount of time and patience, something the luxury automaker's willing to invest to get things right. Each diamond-in-diamond in the interior's quilted leather has 712 stitches with 310,675 stitches per car. There's 10 square-meters of veneer in the car which takes about nine hours to craft. These details don't account for the days, weeks, and months Crewe spends finding flawless hides and materials or the years it's taken for the new GT Convertible to fully come to life.
Technology's infused throughout the GT Convertible but it's balanced and purposeful. The center display, for example, rotates to hide the screen, functioning as sort of a digital detox when all we want to do is soak in the world around us. When you need to be connected, Apple Car Play integration and Wi-Fi on board ensure you don't miss a thing. On evening drives, the the night vision screen allows you to "see" hazards ahead, even when your eyes can't. We expect a chilly evening won't stop you from dropping the roof so the neck warmers will come in handy. If you do decide to close the top, you'll be entering a cabin that's 3 decibels quieter than the previous generation GT Convertible. The roof even comes in a range of colors, including Tweed.
Getting the roof right isn't a simple task and it's even more difficult when it's a Bentley roof. Luckily they've had fine examples from its history to take inspiration from, including the Azure. Beautiful proportions give the new GT Convertible a remarkable presence, whether the top is open or closed. The shorter front overhang plays well with the longer rear. Clean lines make for a sexy surface that accentuates only the right moments.
Bentley's dedicated a century to making fast cars that are the best in its class. Refined and powerful. Mate the GT Convertible's aluminum structure with the iconic W12 engine and we get super car performance in the form of a 207 mph top speed, just like its coupe sibling. With the tourer's comfort considered, there's really nothing it can't do. When you're not in a rush, variable displacement helps the GT Convertible be efficient and you wouldn't even know it's happening. Bentley Dynamic Ride balances between that luxurious drive Bentley's known for and body control that delivers confidence at every turn.
Every twist on the A-397 was a challenge we hadn't faced yet the GT Convertible brought calm, even while exhilarating. Sport Mode helps for instant power and control with Active All Wheel Drive and Torque Vectoring helping to put the horses right where you need them to command a tight bend. Exit any turn and the 6.0-liter W12 engine under the hood makes full use of its 626 horsepower and 664 lb.-ft. of torque. Destinations come quicker but when you're in the Bentley GT Convertible, what's the rush?
Check out more of the 2019 Bentley GT Convertible in the gallery above and expect it to land in Bentley showrooms in the Spring of this year with an MSRP of $236,100.
All images were shot on the Hasselblad X1D.