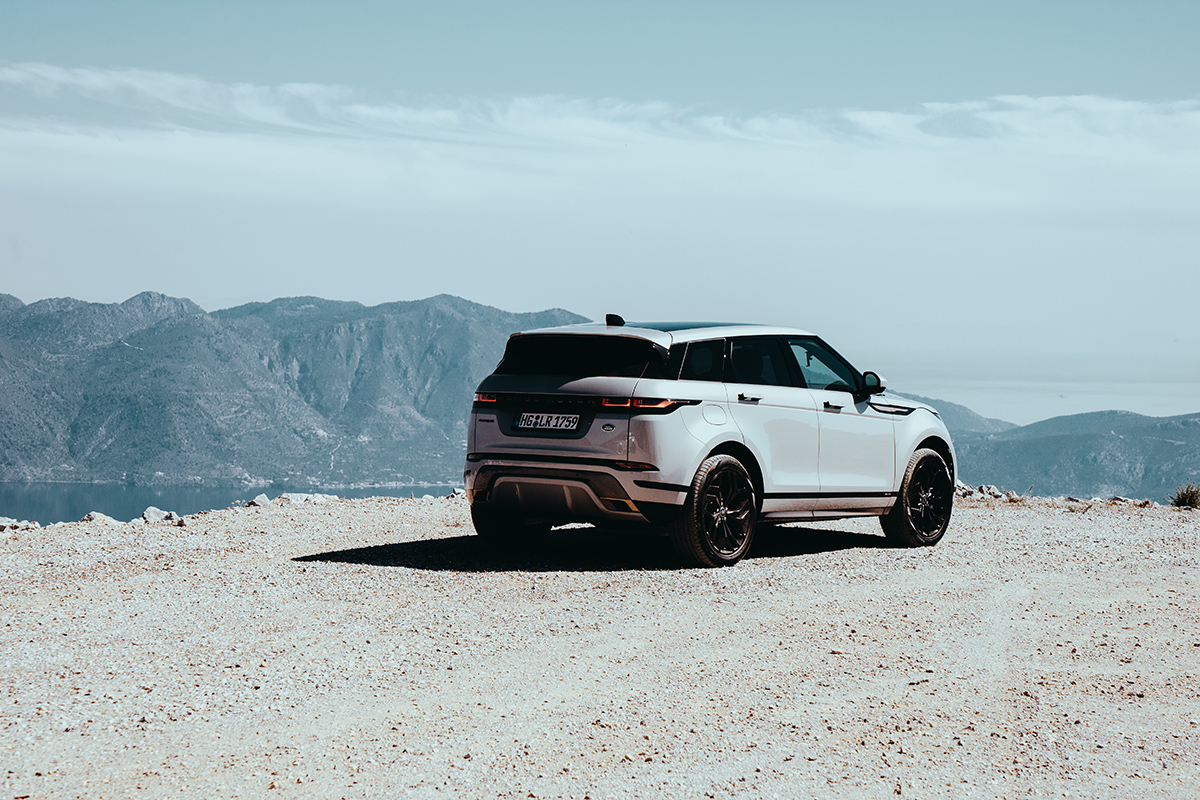 2020 Range Rover Evoque Takes Sustainable Approach To Luxury While Delivering Innovation You Can't See
Words and photos by Atif Kazmi for Por Homme
Since hitting the market back in 2011, the Range Rover Evoque's done nothing but defy odds. Initial guesses were that it would sell about thirty-thousand units a year and it ended up moving 125,000 per instead. Many questioned its purpose and the need for a smaller Range Rover, given just how well both the Range Rover Sport and big-body Range. Others wondered if it would be capable of delivering the off-road performance we've come to expect from the storied brand. The latest in its evolution is the 2020 Range Rover Evoque which aims to put all these concerns to rest, once and for all.
Much like the Evoque, Athens — the city we traveled to test drive the new Evoque — is underrated. It's filled with culture, emotion, and sits in a region of Greece that features some of the World's most breathtaking backdrops. Cut through the hills to see wondrous landscapes from above or get to the sea where the water's a shade of blue not often seen. Do it all in the new Evoque and you're sure to kick up the fun factor a few notches.
At one point, we journeyed above the Corinth Canal, one of the world's smallest ocean canals. The vantage point is normally experienced on foot but Land Rover decided to go a route seldom traveled. We stayed in our Evoque and drove across an old railway bridge that we accessed about a half-mile back through an abandoned rail station. This might be the smallest Range Rover but it's fearless.
The Peloponnese region is as beautiful as it is challenging, a perfect test for a compact SUV that bears the Range Rover name. Given an overwhelming percentage of Evoque customers are first-time buyers for the brand, the Whitley-based brand has worked tirelessly to pack as much innovation and luxury into it as possible. The Evoque isn't meant to be a diluted version of what we can expect from its older siblings. No, this is luxury at a smaller scale.
What we're seeing here is the most refined Evoque yet as Gerry McGovern and his design team have taken an evolutionary approach to the execution of their compact luxury SUV. With its falling roof and rising baseline, the Evoque's presence is confident. The wheelbase increases while the overhang in both the front and rear shortens, tweaks in volume and proportions helping to balance out the overall design. With many of the edits, you need to step a bit closer to see the difference. Both removal of finishes on wheel arches and the roof joint is subtle but make a tremendous impact.
This is precise execution on Land Rover's part as there's a ton of innovation here that you simply can't see. It needs to be experienced, something that's engrained in the Range Rover DNA. An all-new body structure brings with it refreshes across the drivetrain, suspension, and engine. Re-engineered suspension plays well alongside hydrobush technology and continuously-variable dampers, elements we felt go to work in some off-road conditions ranging from dirt backroads to driving through creeks and climbing steep inclines. Locking rear differential kicked in plenty as did the Terrain Response 2 system with its Auto mode. It's effortless and intelligent and constantly at work to ensure comfort even the road conditions might not be the most pleasant.
Step into the cabin and you're met with more luxurious comforts and refinements. There's slightly more room here when compared to its predecessor but the detailing across the tech interfaces and materials is a big step up and a necessary one at that. The center console layout is intuitive and features the latest Touch Pro Duo, balancing our desire to constantly be connected with minimalism that removes the distractions. Android Auto and Apple Car Play are both standard in the Evoque, a first for any Jaguar-Land Rover vehicle. The coupe styling looks great but the shrunken rear windshield doesn't help when it comes to visibility. To remedy the issue, Range Rover's debuted their ClearSight rear view mirror which feeds in real time thanks to a rear-mounted camera. There's also ClearSight ground view camera that shows you what's happening under the bonnet, perfect for avoiding those curbs that tend to creep up on us from time to time. The most impressive element of the interior here is the brand's commitment to premium, plant-derived fabrics and synthetic material made from recycled plastic bottles as alternatives to the quilted leather option.
Sustainability is a goal for many brands but balancing it with luxury is something we're seeing Range Rover do better than most other luxury brands on the market. There is a sense of responsibility here and a shift in how we achieve luxury. We tend to see luxury be out-of-reach and though the Evoque isn't the most affordable compact luxury SUV on the market, it's well worth the price given its design, refinement, and capability.
See more of the 2020 Range Rover Evoque in the gallery above and head to your local Land Rover dealer to experience it in person.