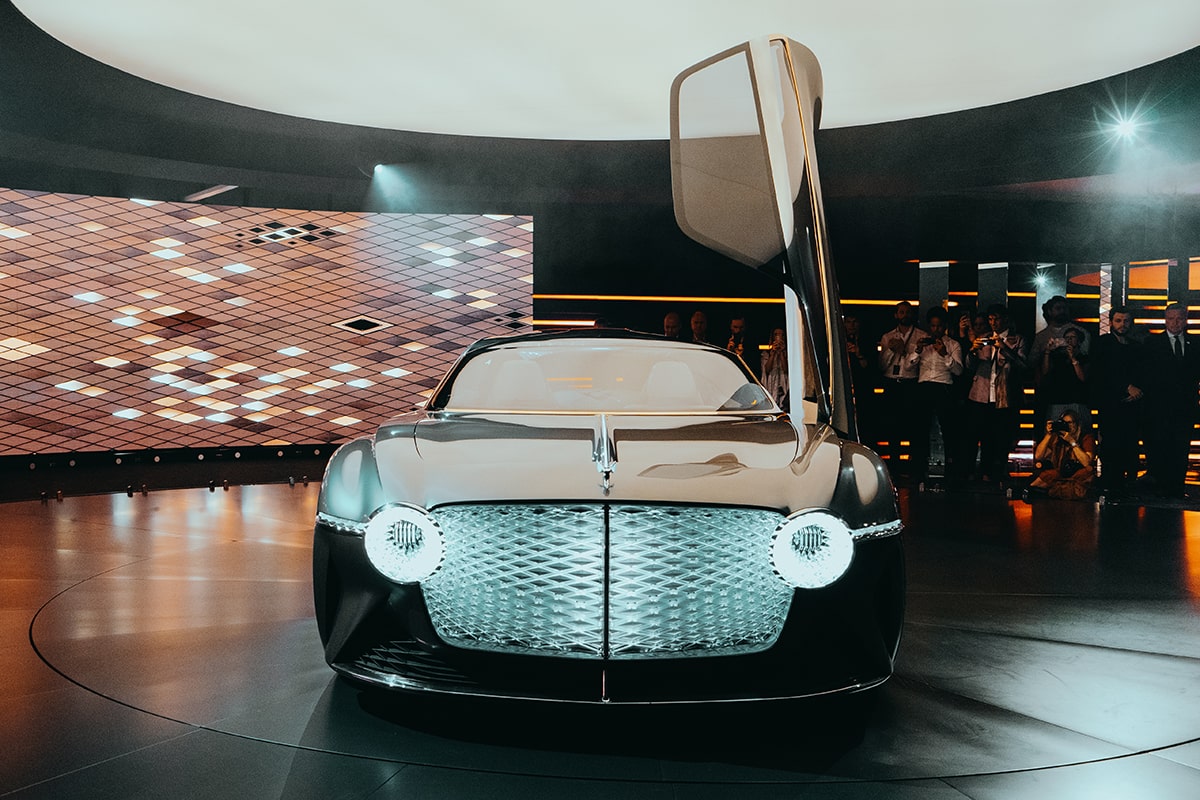 Photos and words by Atif Kazmi for Por Homme
There was something I read recently that credited the technological innovation we're seeing currently to the generations that have come before us. That we start off right where those before us left off; that the learnings of an entire industry can spur growth not in steps, but in leaps. To celebrate its Centenary, Bentley Motors unveiled the Bentley EXP 100 GT Concept, imploring us to think about the leaps the storied brand's aiming to take in automotive as well as luxury.
With the overuse of the word "luxury", Bentley's looking to redefine it completely. The EXP 100 GT isn't simply about getting a car, it's a vision for what a truly luxurious experience will look and feel like. We've already seen a bit of how Bentley's putting a focus on the driving experience with the latest-generation Continental's Rotating Display but the British automaker's latest concept takes things leaps further. With the EXP 100 GT, there's a sense of occasion right on arrival as both driver and passenger doors pivot outwards and upwards as they rise to almost three meters in height.
In the future, guilt-free luxury is the standard as Bentley's continuing to build towards a completely sustainable experience. But that's not only limited to the all-electric powertrain but also can be seen with the EXP 100 GT's 100% organic leather-like textile and British Farmed Wool carpets and embroidered cotton interior surfaces. The Compass exterior paint features a special Colourstream pigment that's synthetically made from recycled rice husks ash, a harmful bi-product of the rice industry, remanufactured for the Bentley EXP 100 GT to reduce the amount that ends up in landfill waste.
The interior's met with natural materials such as wood, leather and glass while light is tooled to create a unique interior environment that boosts the physical and mental well-being of passengers. Glass flows into metal, into wood, and into leather. Bentley uses naturally-felled wood veneer to reconnect passengers with the authentic, natural world around them. Light in all forms gives the EXP 100 GT life. The glass roof is embedded with prisms that collect light and transfer it into the cabin using fibre optics.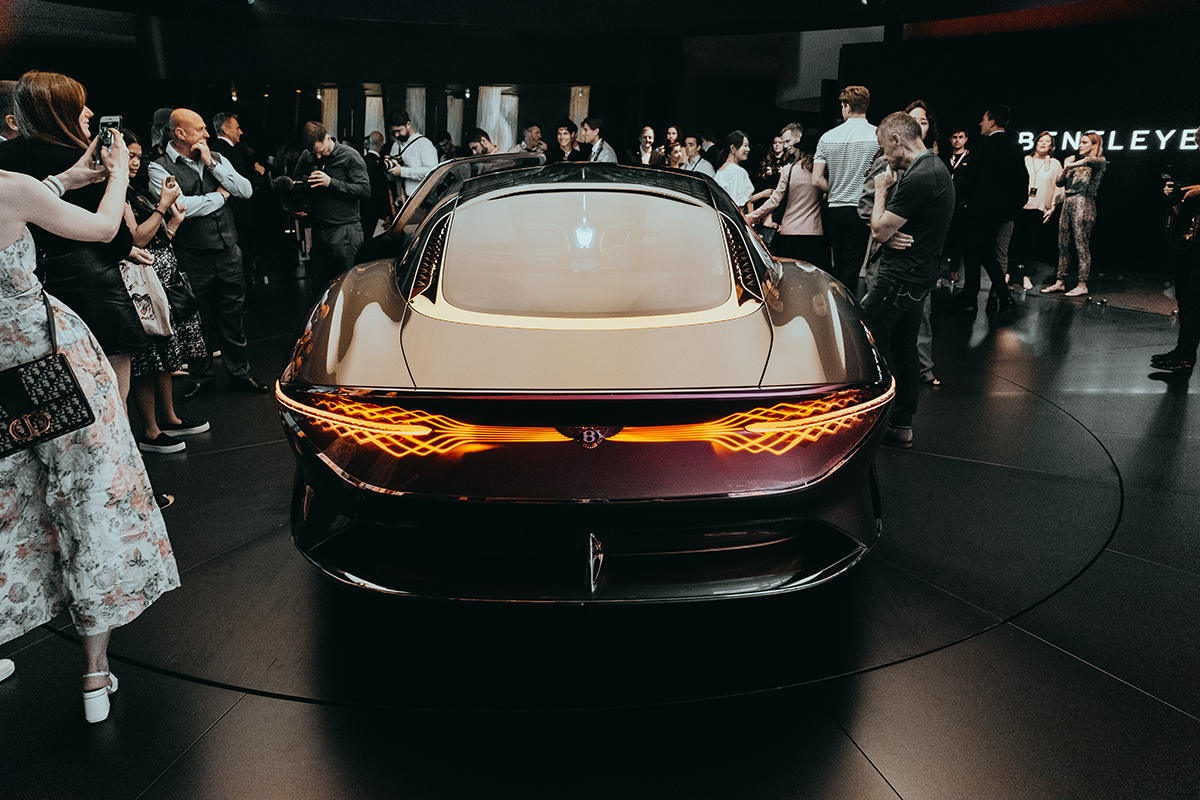 The Bentley EXP 100 GT leverages new, innovative technologies to drive home this new level of luxury Grand Touring and the Bentley Personal Assistant is at the center of it all. Visualized using illuminated crystal from Cumbria, England, it can customize the experience based on what it's already learned about the owner. There are five distinct modes: Enhance, Cocoon, Capture, Re-Live, and Customise. Interaction with the AI's made through hand gestures made to the front or rear Cumbria Crystal interfaces. Enhance pulls in outside light, sound, smell, and air quality, offering an immersive grand tour and a feeling of an open-top experience from under the glass canopy. Cocoon does quite the opposite as it creates a protective space with even the glass areas turning opaque for privacy. Capture records experiences from both the inside and outside of the car and Re-Live replays the highlights. And with everything Bentley, you can combine elements from all of these and make the experience truly bespoke.
It's a fully-autonomous car that can be driven whenever you're interested in increasing your heart rate. The performance figures are staggering and not just for a carbon-free vehicle. The battery system powers four motors that can go from 0 to 60mph in just 2.5 seconds. A top speed of 186mph and a max torque of 1,500 Nm are mated with next-generation Traction Drive which enables maximum handling thanks to torque vectoring, applying 50 percent increased power and 35 percent less mass for more effective cornering. With a range of 435 miles, the Bentley EXP 100 GT can get to 80 percent of capacity in just 15 minutes with all charging taken care of by Bentley Personal Assistant. And whether you're driving or being driven, Adaptable Biometric Seating can be configured in three different ways, depending on whether the owner is driving or using autonomous mode. Biometrics are embedded throughout the EXP 100 GT, helping to track everything from your eyes and head movements to even blood pressure.
The Bentley EXP 100 GT is wonderment at standstill. The exterior's muscular yet refined and infuses the brand's unmistakable DNA with a forward-looking vision. The famous R-Type Continental haunch at the rear, the round headlights that overlap the grille like the Bentley Blower and a long graceful body give us one long way to the past before speeding off into the future. There, quality will still matter as will authenticity and heritage because the best stories are told year after year, generation after generation.
The Bentley EXP 100 GT is ambitious to say the least, with a future vision that blends performance, technology, and craftsmanship that must be seen to be believed. Check out more of it in the gallery above and expect it to make the rounds over the rest of the year.