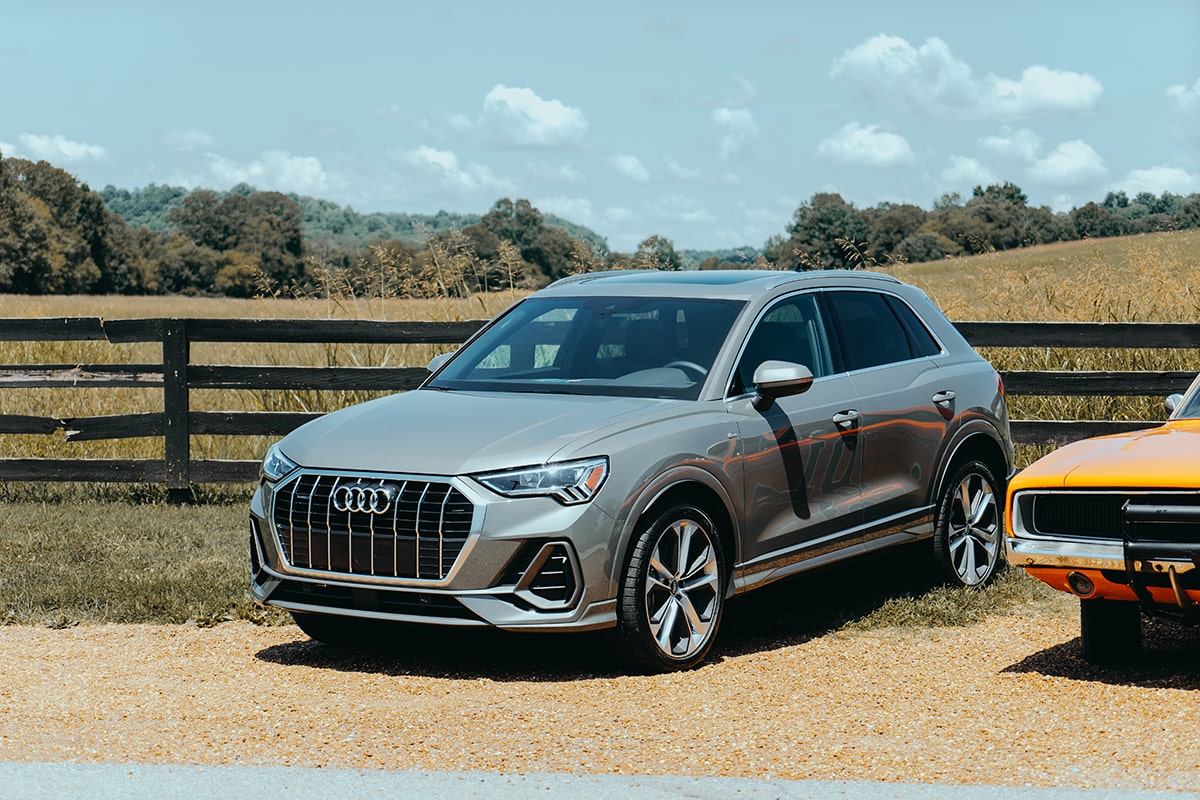 Words and photos by Atif Kazmi for Por Homme
There's something to be said about a premium brand's entry-level vehicle. It's meant to be a gateway that pulls you into the brand and keeps you there. Audi's got their trio – the A3, TT, and the Q3. All three serve their own purpose but the shift to SUVs is apparent and that's a lot of responsibility for the Audi's small yet mighty Q3. We made a trip down to Nashville to experience the 2019 Audi Q3 and to see just how much the German automaker's giving for the pull.
Nashville's expressive creative community is expanding well beyond the live music on Broadway. Agencies focusing on design and marketing are popping up left and right, almost as rapidly as public art projects. Nashville's known for their murals and the latest is in partnership with Audi and a duo out of Washington DC — No Kings. Not only did they create a vibrant visual just steps from Nashville's Printers Alley, but they also translated right onto a 2019 Q3. Audi's focus with the Q3 is to "Hold Nothing Back" and decorating an entire wall in the heart of Nashville makes it all feel so limitless.
Take, let's say, the Q8 and you'd expect Audi's Q3 to be a stripped down version. Corners cut and the majority of elements that make it a premium SUV gone along with space and size to justify a sub-$35K price point. But with sales volume doubling for the segment year-over-year and 68% of those buyers being completely new to premium brands, Audi's aiming for a lasting first impression rather than a quick buck.
The Q3 does indeed feature Audi's new SUV design language but signature elements blend with unique, function-focused details. This compact SUV's grown up a bit and features an increase in the wheelbase, width and length. Making it larger makes it more ideal for all your life's adventures, whether that's a day at the beach or a trip to Whole Foods or even Lake Tahoe. The exterior's well-balanced with a significant amount of time and thought put into the compact SUV's proportions. The front end's been brought upward and fenders gotten Quattro blisters to give it a more confident, athletic stance. The 3D octagonal single-frame grill is fitted with vertical bars complemented by a cohesive lighting design that ties in the rear as well. Also on the rear is an integrated spoiler which helps to reduce visual mass.
Speaking of mass, the interior's where the Q3's expansion is most apparent. You get more headroom, knee room, shoulder room, and even cargo space and it's done in such a tactical and functional manner which might be the most impressive part. The cargo space features an adjustable load floor with two different heights while the rear seats feature a 40/20/40 split. There are convenient storage spaces throughout the cabin, making use of extra every inch available.
Not only is it the most usable but the 2019 Audi Q3's interior is also the most refined execution we've seen for the model ever. The driver-focused black panel cockpit flows right into a high-resolution touchscreen that's integrated so perfectly into the black panel. You can opt for aluminum or matte wood inlays as well and even ask for contrast stitching for added detail. The MMI's touch response delivers acoustic feedback while you can even get handwriting recognition. B&O's 3D Stereo delivers the tunes while wireless Apple CarPlay can pull in all your favorite apps right to the MMI.
Opting for a 12.3-inch Audi Virtual Cockpit instead of the standard 10.25-inch digital instrument cluster is the first right decision you'll make while optioning and pairing it with the expanded 10.1-inch MMI will be your second. Driver assistance come in the form of pedestrian braking, Audi Side Assist for blind spots, etc. and Parking steering assist to help you squeeze into tight city spots. Lane departure will not only warn but will also intervene should you veer completely out of your lane. The tech components and how well Audi's integrating them into their gateway vehicle is exactly what the segment needs.
Much like new murals that grace the building walls of Nashville, the 2019 Audi Q3 is refreshing, fun, and above all, it's a gateway into new experiences. Check out more of it in the gallery above and head to your local Audi showroom to see it in person.