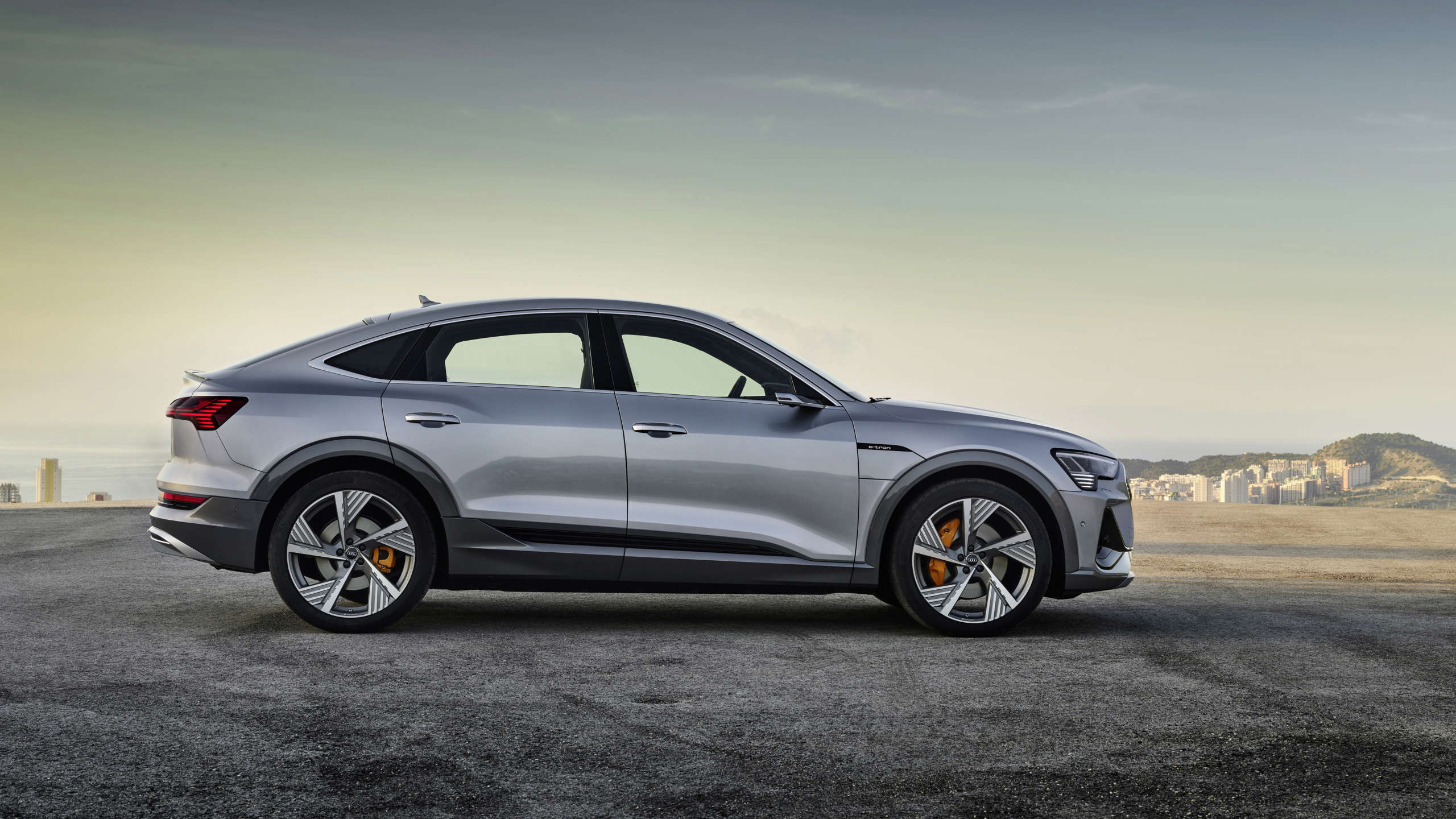 The Audi E-Tron Sportback has been unveiled in LA, bringing a coupe-like crossover option to the German automaker's all-electric lineup. The difference between the E-Tron and E-Tron Sportback is mostly in design and the latest addition's also getting some more range because of it. The swooping roofline makes for a lower coefficient of drag, bringing it down to a 0.25 CoD when equipped with the Euro-only camera mirrors. No word on what this means when America's physical mirrors are in play but we'll wait on EPA range figures to confirm things. While the E-Tron uses 83.6 kWh of its 95 kWh battery pack, the E-Tron Sportback is making use of 86.5 kWh. This translates to the same power output as the E-Tron which is a combined 355 horsepower and 414 pound-feet of torque from the two electric motors, both helping to deliver greater response and accuracy.
The E-Tron Sportback loses some interior space because of the curving roof but everything else seems to be the same. There's plenty of screen usage here, including the dual-touch screen in the middle. Virtual Cockpit Plus replaces the digital instrument cluster and has three areas for you to customize to your liking. Other tech enhancements include Driver Assist package and MMI Touch Response. Wireless smartphone integration and wireless charging are available in the E-Tron and E-Tron Sportback as well as is the use of the myAudi app. Everything's tailored to an all-electric journey with the MMI screen's providing charge locations for Level 2 and fast chargers. Range is overlayed on the map, letting you know exactly how far you can go based on your current charge. The adaptive range calculator pulls in traffic, elevation, and temperature to give you the most accurate range figure possible.
From the myAudi app, you can see how much charge time is remaining when you're in your house or stopping somewhere. You can plan a trip and have that handed off right to the MMI inside your E-Tron or E-Tron Sportback as well. Audi's also making trips stress-free with the integrated toll module which lets you connect your toll account or accounts to the MMI, allowing for a single cross-state account setup that can be done right through the myAudi app.
See more of the Audi E-Tron Sportback in the gallery and expect it to land in the US sometime next year while Europe will be getting it in Spring of 2020.