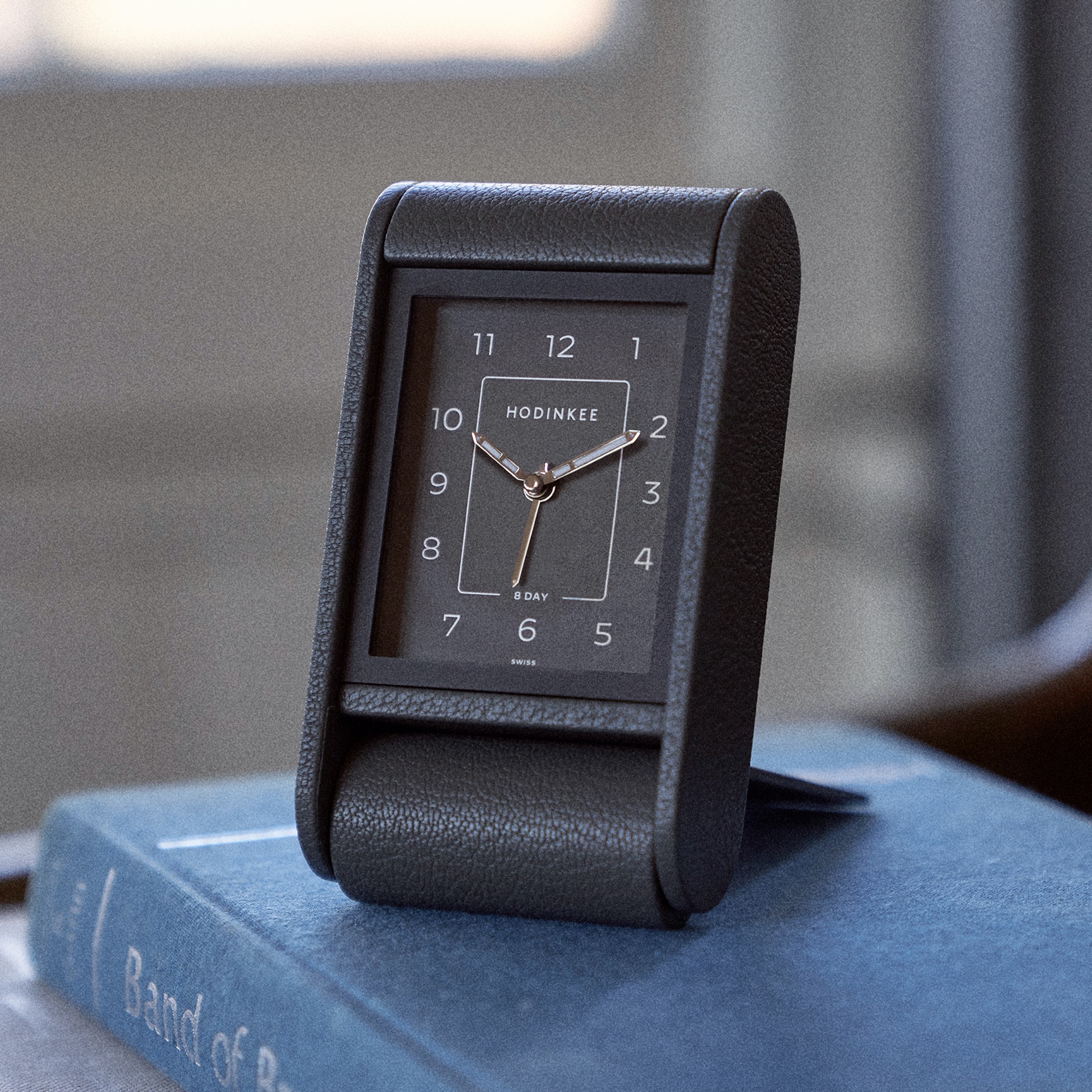 HODINKEE's Eight-Day Travel Clock Uses Vintage Deadstock Movement and is Limited to Just 96 Examples
Introducing the HODINKEE Eight-Day Travel Clock, a limited edition companion for wherever life may take you. Done up in HODINKEE grey, it pulls inspiration from the travel clocks you'd find bedside to travelers as far back as the 1920s and '30s. The shell is constructed from PVD-coated steel that's been upholstered by hand with goat leather dyed in HODINKEE's signature shade of grey. It's portable and can be handheld or tucked away in your weekender. Placing it at your bedside has it effortlessly blending design, function and a sense of timeless elegance.
The Eight-Day Travel Clock's dial is an exercise of detailed subtleties. The grey dial fades in its central portion furthering the refined execution of this piece. And then there's Decimal, the typeface used on the dial and developed by Jonathan Hoefler. It pulls inspiration from decades of watch design with its intricacies hinting at the complications that underpin it.
The manually-wound, mechanical clock features an eight-day power reserve as well as alarm functionality. The vintage movement to thank was originally built by a small, family-owned Swiss manufacture named Pontifa. Since 1850, they were producing movements for pocket watches, dashboard clocks and more. But their specialty was eight-day travel alarm clocks like the ones used in HODINKEE's iteration here. To have discovered these is in unused, near new-old-stock condition is like unearthing a never-driven, vintage car during a barn find.
The HODINKEE Eight-Day Travel Clock is limited to just 96 examples, each coming with a numbered certificate, a handmade shell cordovan carrying case with a suede interior, and a three-year warranty. You can see more of the Eight-Day Travel Clock in the gallery and head to HODINKEE Shop to learn more and purchase now.