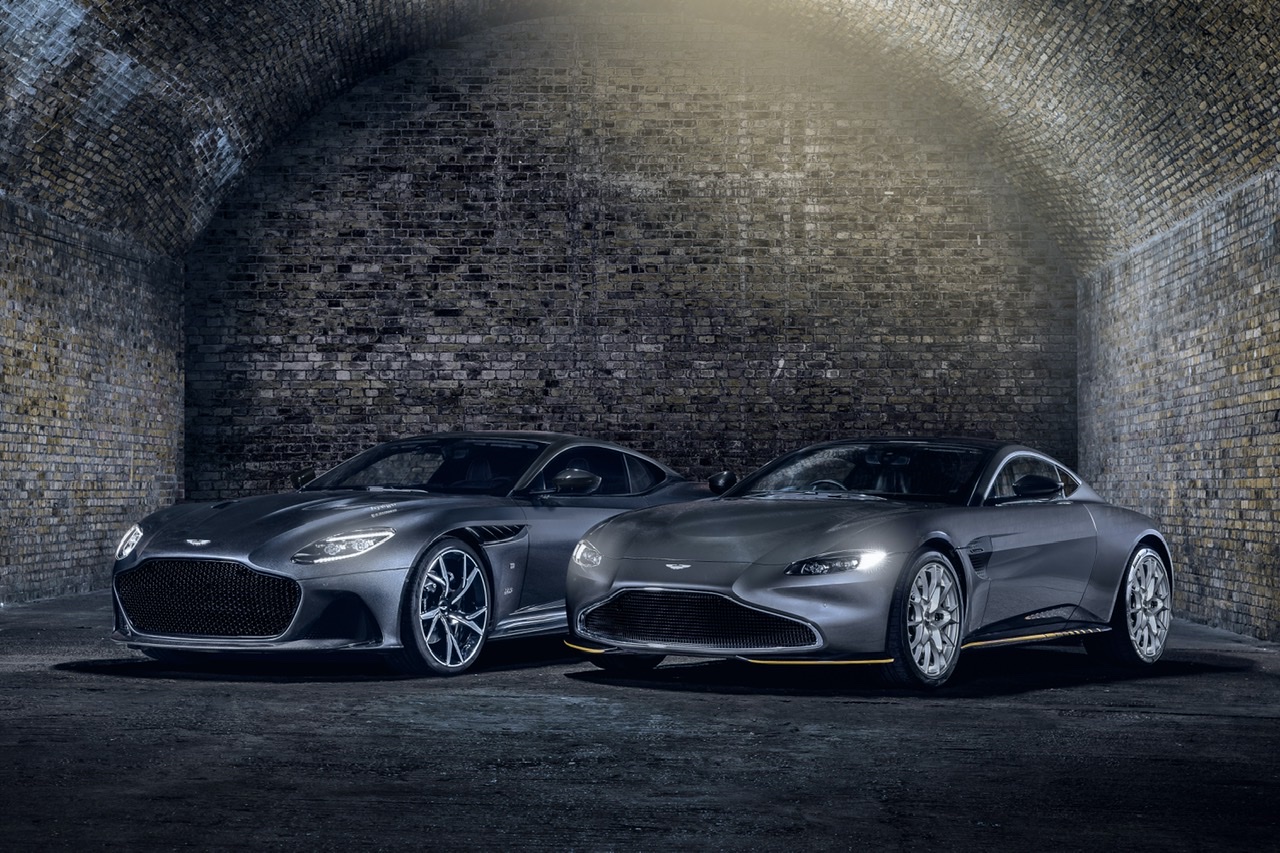 Q by Aston Martin Crafts Bespoke, Limited 007 Edition Vantage and DBS Superleggera for 'No Time To Die' Release
From Q by Aston Martin, the British carmaker's bespoke division, comes two limited 007 Edition cars celebrating the release of the 25th James Bond film, No Time To Die. The Aston Martin Vantage pulls inspiration from the original Vantage V8 which made its debut in The Living Daylights in 1987 and will show face again in the latest Bond flick. Beyond the bespoke mesh grille with chrome bezel and dashed yellow diffuser, the Vantage can also be delivered with a set of limited edition skis and ski rack, referencing the winterized V8 saloon from the film.
The Vantage will be delivered in Cumberland Grey with the interior presented in obsidian black leather and black chrome. 007 branding can be seen on the center console of cars equipped with a manual gearbox. The seats feature unique heritage fluting pulled from the V8 with carbon fiber backs. This car has plenty of easter eggs, from the embroidered radio station frequency in the sun visor that was used to escape in The Living Daylights to the outline of the cello "f holes" inspired by the memorable cello chase scene from the film. In the center is also a laser-etched plaque that references the range of weapons and devices seen on the original film car. Everything from a rocket motor and missiles to targeting display and ski outriggers. The 007 Edition Vantage can be had in either an automatic or manual and is limited to just 100 units globally.
And then there's the DBS Superleggera which is strictly limited to just 25 production cars and offered in the same spec as the one featured in the film. A Ceramic Gray finish is accented with black tinted carbon fiber on the roof, mirror caps, splitter, diffuser and rear Aeroblade II. The interior gets leather throughout with contrasting red detailing and 007 branding as well as sill plaque to signify just how rare this DBS Superleggera 007 Edition is. 
No Time To Die is set to feature at least four iconic Aston Martin sports cars including the classic DB5 and Vantage V8's, a DBS Superleggera and the Aston Martin Valhalla, the brand's forthcoming mid-engined hypercar.
The Aston Martin DBS Superleggera 007 Edition retails at £279,025 (~ $365,575 USD) and the Vantage 007 Edition comes in at £161,000 (~ $210,940 USD), with both on sale separately now. Look for first cars to begin arriving for customers in Q1 of 2021.