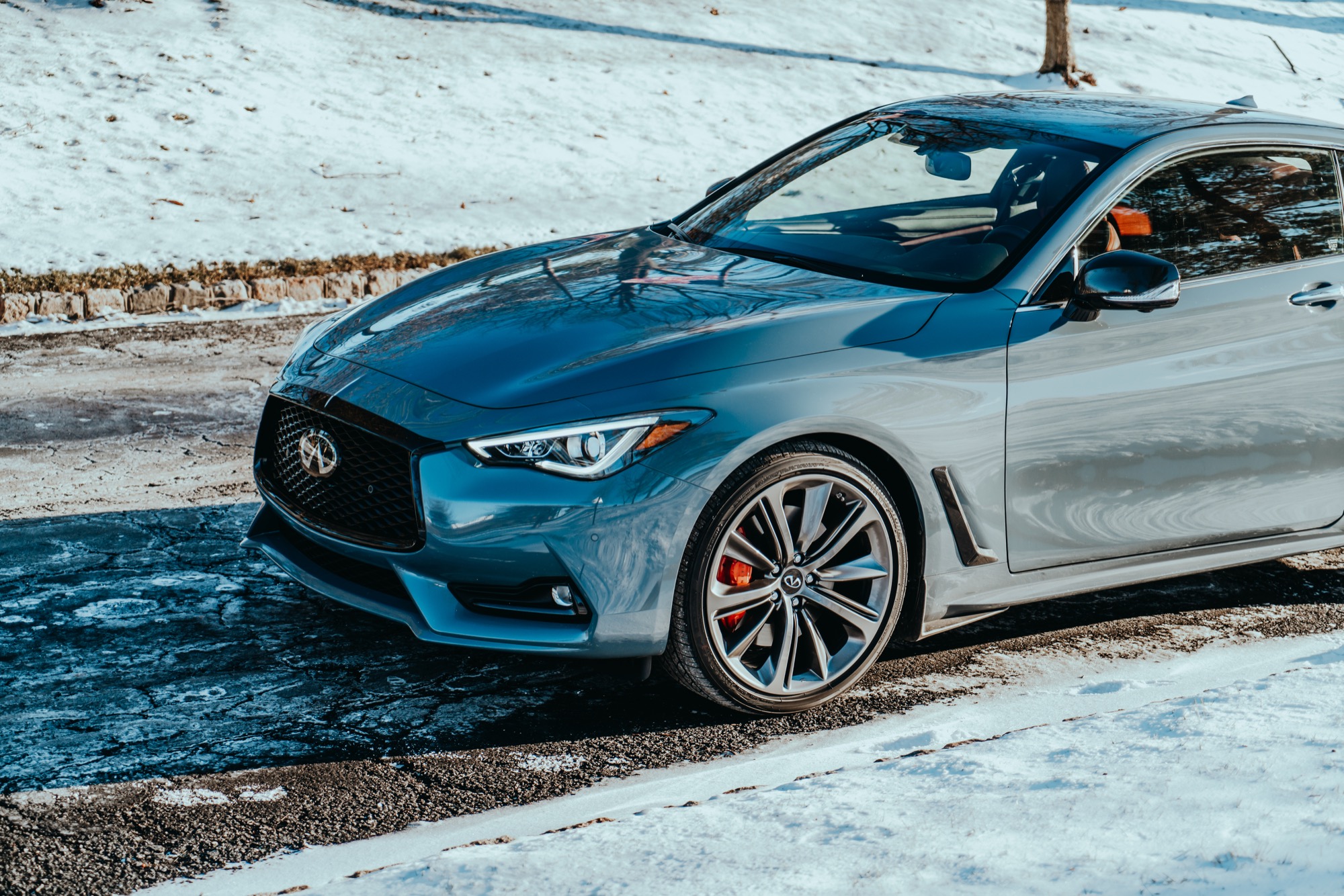 The 2021 INFINITI Q60 Red Sport is the most powerful model in the Q60 lineup, an elevated evolution from all that the Nissan brand's put out over the years. We recently test drove the Red Sport 400 in AWD, giving us an all-season joy ride.
The Q60 Red Sport curves, deep creases, and flowing lines intensify Q60's low, wide, powerful stance. Signature elements like eye-inspired headlights and a double-arch grille make it unmistakably INFINITI. Progressive and modern, yet dynamic and moving, this can be a pretty solid option that looks and feels good. The optional Adaptive Front lighting System turns the headlights with the wheel, ensuring you see everything that's coming ahead. The Q60 features a front and rear "Zero-Lift" aerodynamic design that helps keep the vehicle directionally stable at high speeds, something I was able to experience first hand.
The Q60 Red Sport 400's tuned 3.0L Twin-Turbo V6 radiates 400 horses and does 0-60 mph in just 4.5 seconds. That's a bit slower than some of the German competition but it sounds good and feels great as it climbs. Infiniti's also speculated to give us the Project Black S, a collaborative effort between INFINITI and Renault F1 team, with over 563 hp. Drivers can take charge with the flick of a switch, manually switching from the comfort-bias to a sportier ride. Infiniti's Direct Adaptive Steering helps to instantaneously transmit your steering input to the wheels. Its digital processing power is meant to help the driver steer quicker and smoother though real-life experience feels a bit softer than we had hope but that does mean a more comfortable drive throughout.
The Q60 Red Sport's interior gets INFINITI's Q-Series layout, featuring a chunky center console, and a cockpit-inspired dash. It's usable, comfortable and spacious. But all of this is confined to the front row, as is the case with most of the coupes in the segment. Nonetheless, we get a cabin that's wrapped in leather upholstery and impeccable fit and finish for the price-point. The plush usage of materials has helped well in covering its aging design and technology features. But at the core, it's still a sports coupe, and the focused interior layout emphasizes that further. Sport-inspired thumb grips and paddle shifters are just the correct shapes for more spirited driving.
The 2021 Q60 Red Sport 400 gets the same infotainment system from the 2020 model and quite possibly the bit that needs the most innovation. Even as it has that same dual split touchscreen (8-inch at the best and 7-inch at the bottom) layout, there is Android Auto and Apple CarPlay on board. Going for the optional Bose surround system with 13-speakers is a must. The Q60 sports coupe has several driver-assistance tech standard and even more as options. Key safety features include Available forward-collision warning and automatic emergency braking, blind-spot monitor and rear cross-traffic alert.
The 2021 INFINITI Q60 Red Sport has an MSRP of $58,100 but depending on how you option it out, can climb pretty quickly. For instance, the AWD example we test drove was close to $70K. See more of it in the gallery and head to your local Infiniti dealership to experience it in person.