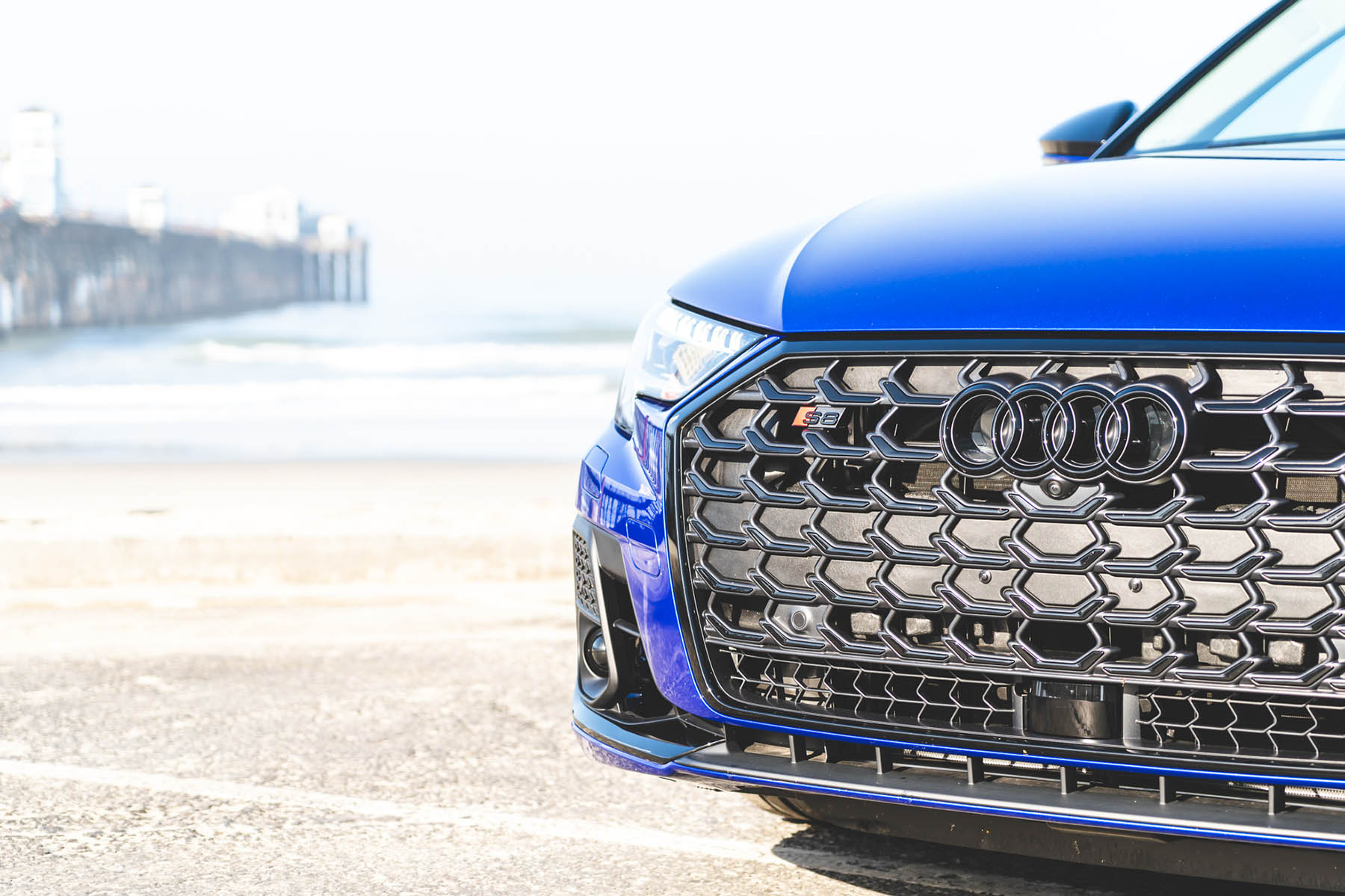 2022 Audi S8 Review | Uncompromising Luxury Sedan is a Sleeper with Power, Predictive Tech and Presence
Words and photos by Atif Kazmi for Por Homme
About forty-five minutes north of San Diego sits Oceanside, a beautiful beach town that's turning into a bit of a hidden gem. The town's latest and arguably greatest outpost is the Mission Pacific, a contemporary hotel that pairs Tulum vibes in the lobby with a rooftop pool and The Rooftop Bar, North County San Diego's first rooftop dining experience. There's no better place to lounge with friends or catch the sunset. And then there's Chef Roberto Alcocer's Valle, a thoughtfully sourced and curated dining experience that's authentic to the Guadalupe Valley. All this served as the backdrop to our time with the new 2022 Audi S8, a luxury flagship sedan that's gotten more refined and confident yet continues to be a sleeper in the German automaker's lineup. 
The Design
While the competition flaunts their details, the Audi S8 continues to take a more understated approach. But get close enough or into the cabin even and you start to see just how detailed the German automaker's been with their execution. Up front, the S8 features an all-new Singleframe grille with symmetrical 'L' bar elements that all bring attention towards the central four-ring emblem. The headlights have been enhanced as well, with HD Matrix-design coming standard and a Digital Matrix-design with 1.3 million micro-mirrors offered as an option. Both are great but the Digital Matrix features a lighting system that dances a bit harder, especially with the new segmented bar up top. On the rear, the OLED taillights adapt to the drive mode, adjusting the signature design when you pop into Dynamic. The quad exhaust tailpipes elude to the power that's waiting to be unleashed.
The Drive
On an early morning, we hopped in an Audi S8 and made our escape from the coast. Temecula Valley feels like the Napa of Southern California. It's the region's wine country, offering up views, winding roads, and plenty of fun. Fully engaged, we cruised inland and experienced the full breath of Audi's 4.0-liter twin-turbocharged V8. For being a luxury cruiser, the S8 moves on demand. 563 horses and 590 lb-ft of torque make way for this but it's how and when the S8 delivers the punch that helps it differentiate. Through the winding roads, the S8 standard all-wheel steering capability help it remain nimble but planted, keeping the car flat for even the folks in the back.
The Audi S8's predictive active suspension brings electric components to each wheel which is fed data from front-facing cameras scanning the road ahead. Once's detected, the predictive suspension can reduced or increase load on each control arm within 300 milliseconds. Because there are no hydraulics and everything's electromechanical, the reaction is near realtime and helps to deliver more versatility, faster. We saw this in play quite a bit, seeing plenty of imperfections on the road but feeling only a handful of them.
Audi takes the S8's predictive nature a bit further, leveraging it to provide more safety for all passengers. We're lucky we didn't get to test this firsthand but Audi's told us that onboard cameras and sensors can brace for impact with the vehicle's body rising up to 3 inches on the side of an anticipated collision, mitigating impact to any passengers and allowing the frame to absorb greater crash force.
Rear Seat Experience
For both the A8 and S8, space comes standard. There's no longer a distinction between the long wheelbase "L" model and the standard, meaning there's more room to stretch your legs and more room for Audi to get creative. Rear seat configuration can be had in either four or five-seat flavors, with the four-seat layout delivering a full-length center console. Included in the center console are power outlets, HVAC controls, seating and media remote, and foldout wing tables. The rear seat comfort package takes things a step further, adding in massaging, ventilation and heated settings, heated armrests as well as a rear seat remote. The rear seat experience lends to Audi's goal of tethering the A8 and S8 between the car you want to drive and the one you'd prefer to be driven in.
Driver's Cockpit
Though the option to be driven still remains, we'll opt to get behind the wheel for as long as we can. It's here that we're met with the best seat in the house. That seat is now more easily accessible as the suspension rises 3 inches when the door opens to make the ingress and egress a lot easier. Get comfortable and you can easily pair your cell phone for wireless CarPlay while the optional head-up display is ready to point you in the right direction. There's even an integrated toll module that we saw in the e-tron, which helps avoid the "Tag Unread" alerts we get when passing through tollbooths here in New Jersey and New York. No matter which service or services you have, you can add them all to one central account and let the car do the scanning, no clunky white tag needed. This is such a small detail in the overall scheme of things but one that's thoughtful.
Audi's dual MMI screens are enhanced, featuring haptic feedback and accounting for nearly 19 inches of screen space for accessing everything from climate, seats, media, navigation and more. Pair this with natural voice recognition that's enabled by saying "Hey Audi" and everything just feels more effortless than ever before.
Around the tech are carbon fiber trimmings that contrast three leather hide options and eight exterior paint options. The Cognac Brown is new to the mix and breathes live into the neutral, understated cabins that Audi customers tend to want.
Final Thoughts
The 2022 Audi S8 is a true sleeper. For passersby, its unassuming natural will have them fooled. Sure, its stance is wider and more confident, further enhanced by the updated grille and bumper. But will they know that it can go 0 to 60 in just 3.8 seconds or that the S8 now has a turning radius of an A4? Surely, the Audi S8 makes its presence felt in ways you least expect.
With the 2022 Audi S8 starting at $116,900, see more of it in the gallery and head to your local Audi showroom to inquire about availability.