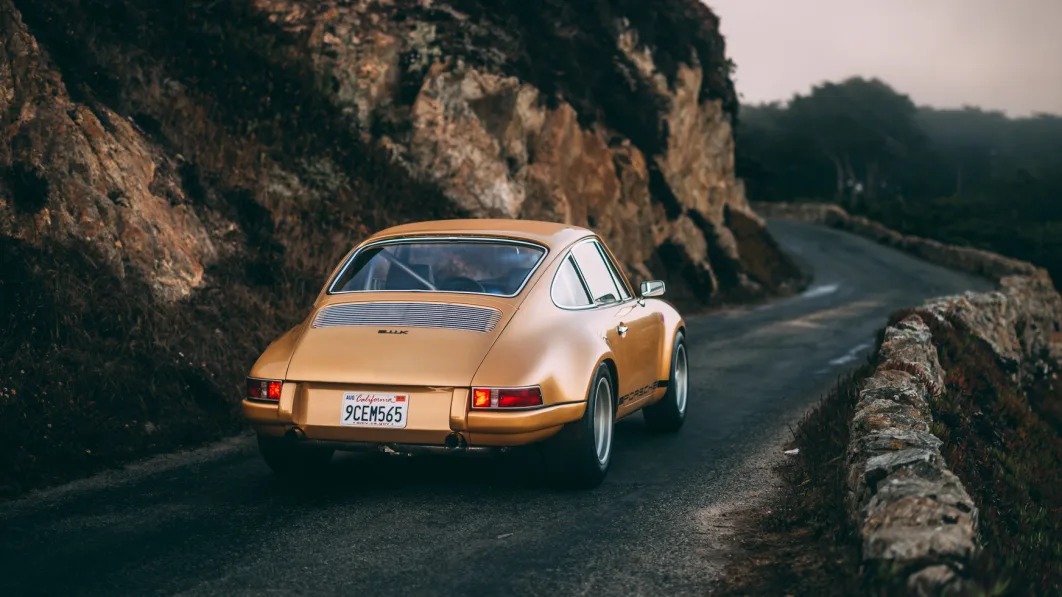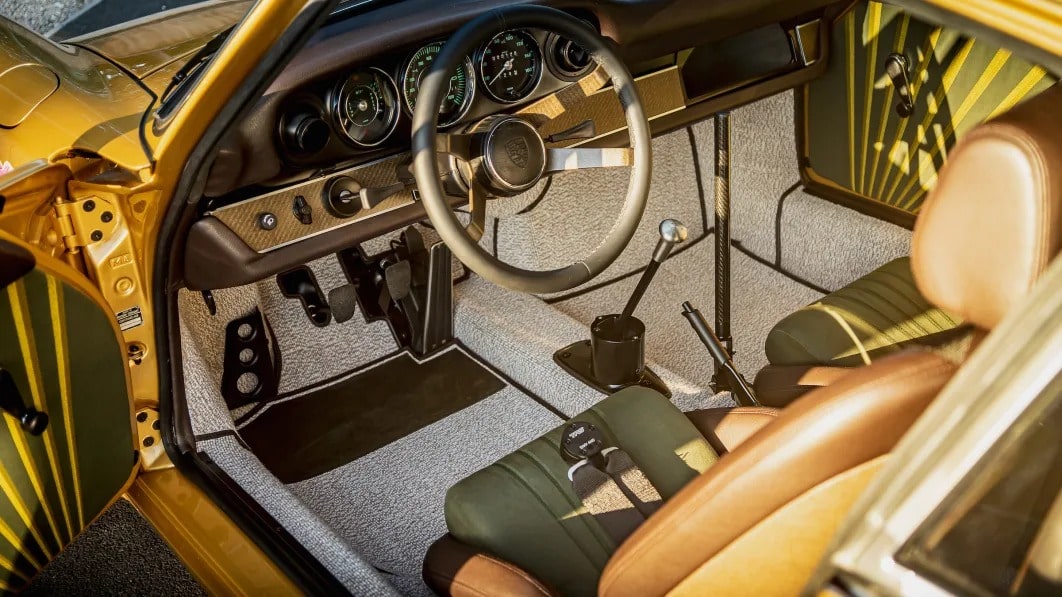 The restomod is a relatively recent phenomenon in the collector-car world. Unlike hot rods, restomods allow classic cars to get the best of both worlds by keeping the original look, but with new parts designed to fit in stock locations. Tuthill Porsche introduces a gold Porsche 911 K, combining classic design with modern reliability, comfort and performance.
"The idea – to build a simple, light car, beautifully presented but with the mechanical capability to take on anything that is currently out there; old and new."

– Richard Tuthill
Though new to the restomod world, England's Tuthill Porsche has a pedigree behind it. What started with Frances Tuthill repairing ProDrive's Dave Richards Porsche 911 after rallies, has turned into a thriving business with Frances' son Richard at the helm. And for over 40 years, Tuthill Porsche has become synonymous with meticulous attention to detail and precision. If you need a Porsche with Provenance, Tuthill is the place to go.
It was only a matter of time before Tuthill eventually ventured into the restomod business. And they did so with a bang. Enter the Tuthill Porsche 911 K. This gold 911 K is the first from the series of these cars and comes with surprising modifications that keep in line with the restomod ideal of efficiency and performance.
Details from Tuthill regarding the ride aren't much. What is clear is that the 911 K was revised from a pre-964 generation Porsche. If, theoretically, Tuthill Porsche used the 1973 911 S with a standing weight of around 2,370 pounds (1,074kg) as a start, the modifications are revolutionary enough for the 911 K to weigh in at a paltry 1,874 pounds (850kg) with liquids. Using composites where possible and swapping in lightweight metals when that wasn't, let's take a look at what it took to get there.
Powered by a custom 3.1-liter short-stroke four-valve engine, the 911 K has a rev limit of 11,000 rpm. It sports a lightweight carbon intake plenum, magnesium 6 speed 915 K gearbox sitting on a carbon fiber cross-member, Tuthill Porsche competition pedal box and wiring harness, and a bespoke oil tank. It also shaves off pounds with the titanium rear roll cage and bespoke lightweight windows. Rounding it, the car comes equipped with a high-pressure front under wing mounted cooling system with electric fan.
The wheels, brakes and suspension systems also benefit from upgrades. The 911 K comes with 15×7 and 15×9 carbon Fuchs-style wheels, carbon ceramic brake discs, Tuthill Porsche calipers, and 2-way rally dampers.
The body panels and external details have also been updated. The roof, doors, front and rear fenders, front and rear bumpers, trunk lid, engine cover, rear bulkhead and seat wells are all woven carbon fiber. The engine cover Porsche crest has been upgraded to a titanium build while the crest in front is lighter still because it is hand-painted.
Even the interior was updated with weight shaving modifications. Titanium makes up the torsion bars, anti-roll bars, and shift lever gear knob. Carbon fiber weave was used for the bespoke seats, RS-style steering wheel, hydraulic hand brake lever and the door cards. Ultra Fabric, Ventile and bespoke embroidery give the interior that finished and luxurious detail.
After its first showing in Monterey, Tuthill Porsche says this is just the start of something better. Richard Tuthill has gone on record to say that, "This one is for the drivers and quite honestly, I never imagined it could ever be what it has already become, and we've only just started!"