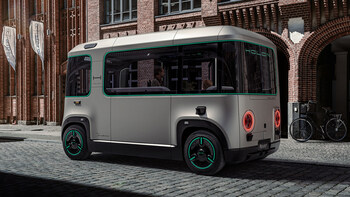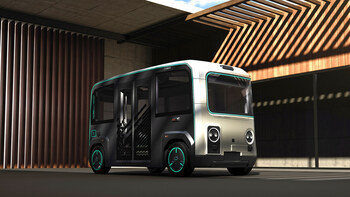 Benteler automotive parts supplier HOLON revealed the HOLON Mover at the Consumer Electronics Show 2023 in Las Vegas. Focusing on fully electric and autonomous shuttles, HOLON's newest offering is the world's first autonomous mover built to automotive standards.
The HOLON Mover has a projected maximum speed of 37mph and a range of about 180 miles. It comes equipped with sensors, L2 camera sensors, lidars, and software to achieve Level 4 autonomous driving.
The mover is made of sustainable materials and features a boxy asymmetrical design with room for up to 15 passengers. It sports wide double-wing doors, an automatic ramp, and automatic wheelchair restraints. Braille and audiovisual guides are on board standards.
This future vehicle democratizes transport to meet on-demand services like daily public transport and ride pooling and hailing, as well as the needs of establishments like university campuses, sprawling airports, and national parks.
Pilot projects planned for the system include the mobility provider Beep slated to start at the end of 2025, and overseas with Hamburg Hochbahn, Germany's second-largest mass transit company.