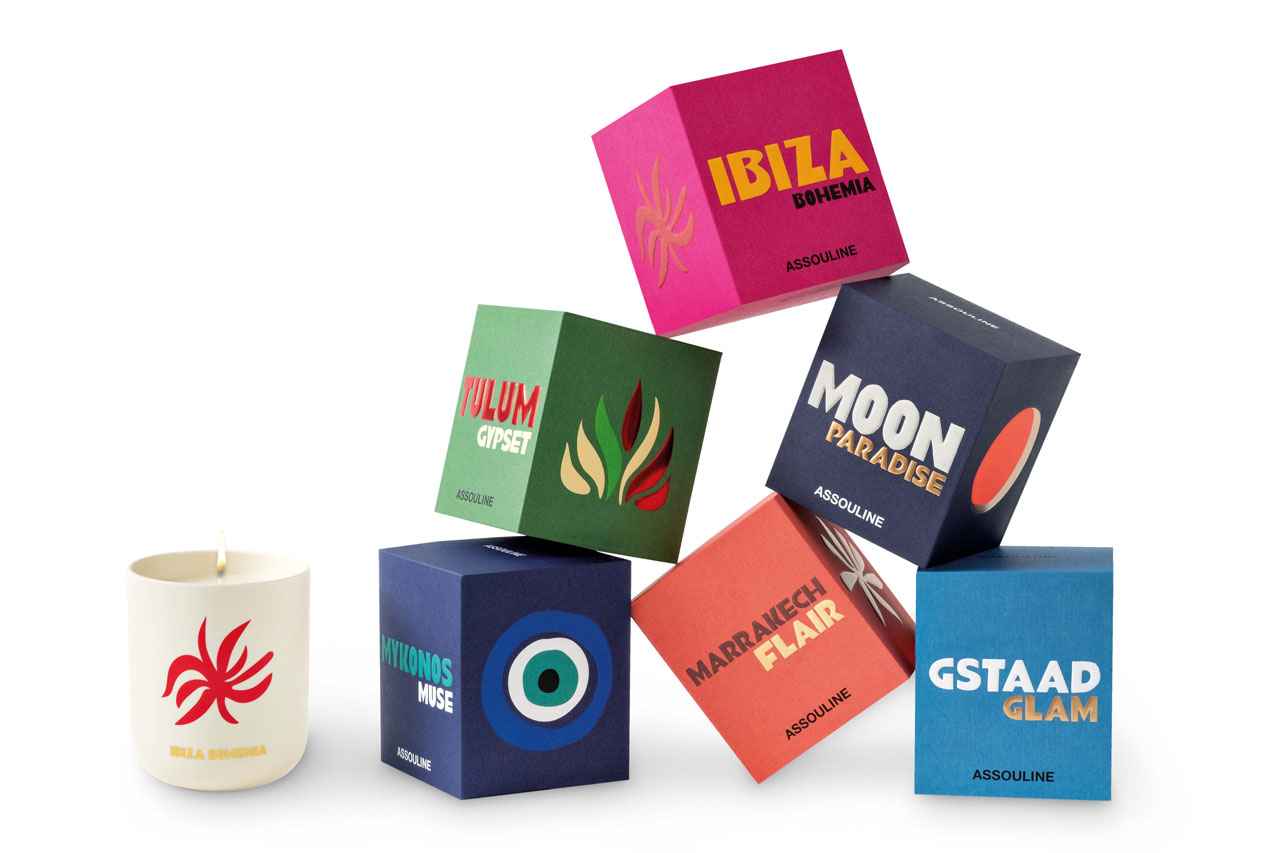 Assouline Travel From Home Candle Collection Inspired By Travel Series Books
Assouline, the New York-based book publisher and luxury lifestyle company, releases the Travel From Home Candle Collection, six scented candles inspired by their Travel Series coffee table books.
The candle collection, created exclusively for Assouline by perfumer Jérôme Epinette, infuses the soy and paraffin candles with regional scents that bring the book's theme into your home. The wax candles come in a ceramic vessel with a serigraphic symbol echoing the book designs. Each candle is named after the books they accompany and comes in a box that mirrors the book cover design as well.
The Tulum Gypset comes in a green box and features the aromas of eucalyptus, sage, black amber, and vetiver that echo the sensory aroma of the town on the Caribbean coastline of Mexico's Yucatán Peninsula.
Ibiza Bohemia takes you on a tropical journey to the Spanish island with a blend of lemon, bergamot, green apple, and an earthy undertone of patchouli. It comes in a bright pink box.
Marrakech Flair brings in the Moroccan city and the desert with yuzu, neroli, citrusy clementine, and orange flower all packed in an orange box.
Gstaad Glam comes in a light blue box and gives notes of raspberry, cypress, black tobacco leaves, and cedarwood to transport you to the wintery mountains surrounding the Swiss town.
Mykonos Muse comes in an east bay blue box and tries to capture the essence of the Greek island with the scent of almonds, rhubarb, wild fig, and tonka beans.
And finally, Moon Paradise goes off-world with black pepper, cashmere wood, bamboo, and moon sand accord in a bright gray box.
A Travel From Home Candle Collection Lid is also available separately. The handcrafted gold brass-plated lid features Assouline's 'A' logo on the top and is intended to keep the candle dust-free when not in use, as well as to help keep the candle's scent longer.
Each Travel From Home Candle Collection candle goes for $80 apiece, while the brass lid goes for $30. The entire collection is available now from the Assouline webstore.