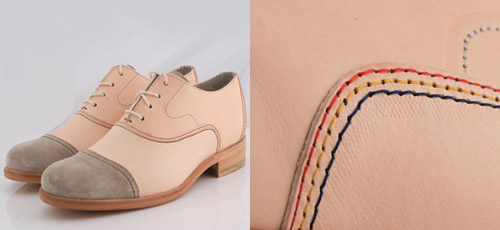 Folk has had a tremendous amount of success as of late and with their spring collection already hitting stockists, we might as well see what they're up to. Their Shofolk footwear collection is one to see, as it's made in a small family owned factory in the heart of shoe making country in North Portugal. They have 60 years experience in hand crafting shoes and this skill combined with leathers imported from Italy really brings character to the shoes. The Lila Nude caught our eye and with good reason. This London-based label managed to really push their creative thinking and the result was this leather Nude with multicoloured contrast stitching. We're expecting this to really come to form over time but that's just an assumption we made after realizing it's a natural leather shell.
Stock on all of the shoes Folk puts out is pretty limited as well so if you dig them, don't hesitate to pull the trigger.
More info and images after the jump.
Buy It: ~ $363 at Goodstead