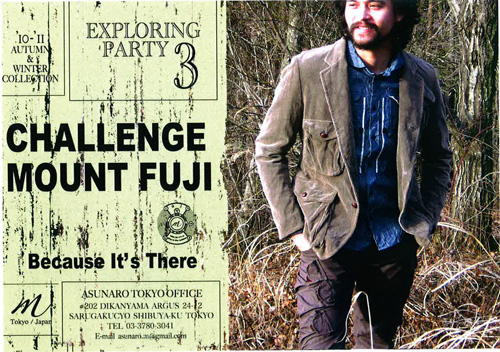 I've come across some great brands since I began doing this and I honestly believe reporting on new labels that are starting off on the right foot is as exciting for me as it is for anyone reading. Don't worry, I wont get emo on you guys (this time) and start pouring my heart out like I just won an Emmy. Back to business, folks.
We'd like to turn you guys to M Tokyo Japan, a label designed by keen mountaineer Mitsuo and manufactured using traditional techniques in a small workshop in Japan. To give you an idea of some of the old school tactics — natural dyed cotton is washed in the rivers by the workshop and dried under the sun on the riverbeds before being put into production. We're not familiar with many designers that practice this ancient Japanese tradition.
With this fall collection being M Tokyo Japan's first, we're expecting them to continue delivering well-constructed pieces that are as functional as they are appealing for years to come. Some highlight pieces include a tweed hunting jacket with patches on the elbow and right shoulder as well as a mountain parka. These and other item's from M's rookie offerings can be found at Garbstore.
More images after the jump.