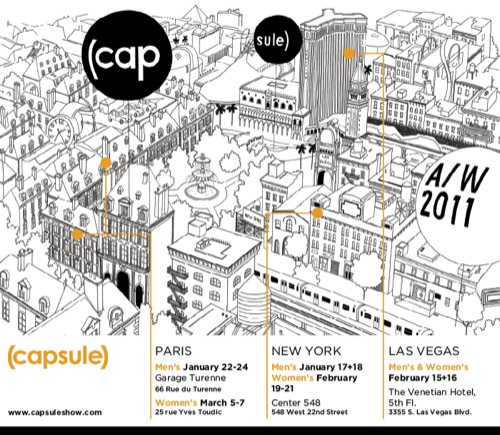 Men's Market Week is getting set to kick off here in New York City and, as always, (capsule) show is leading the way. The brand list for this year's show is tremendous as over a hundred of the world's finest labels will showcase their A/W 2011 collections. What I've always digged about (capsule) is the show's ability to bring together so many gifted folks from a wide range of disciplines — old and new — under one roof and do it such an organized manner.
The list includes some of our favorite brands from seasons past such as Billy Reid, Monitaly, Fjallraven and Timo Weiland. We're also excited to check out other notables including London Undercover, PRPS Japan, and Schott's Perfecto.
(capsule) New York runs from January 17th to 18th. Please visit www.capsuleshow.com for information on this and other shows happening this season.