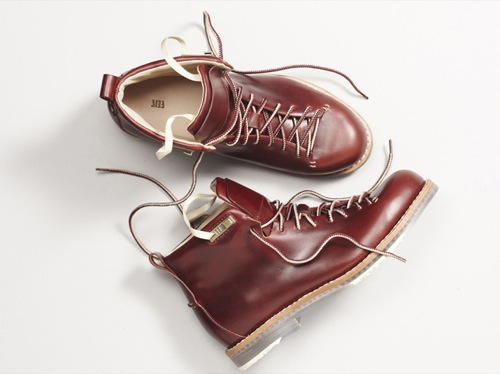 There's nothing we enjoy more than turning you all to new, fairly under the radar brands that are trending in the right direction, and we feel Feit falls into this bucket. Though only a few years young, the brand's been doing some great things as of late, and this falls squarely on the shoulders of Tull Price, the man who founded the company back in 2005. Price looks to deliver product that's made from high quality materials such as Horween leather. The true differentiator is this — they work directly with the factory to eliminate the middle man and save costs which the consumer would end up having to pay. It's a direct, made to order business.
It comes in an oxblood red finish as well as a black variety though we'd recommend sticking to oxblood as it'll stand out year round. Look for this shoe to retail for around $300, a pricetag we really surprised to see for what Feit is delivering to the consumer. At the same time, this market's really become ultra competitive as of late and throwing down a $300 hiker will most certainly keep you in the running.
Side note, Feit's also having their first ever brick and mortar event in North America. The Feit Made to Order event will run from March 17-20, 11am-8pm at 186 Orchard St. Email Feit to make an appointment and for more information.
Pre-Order: $300 at Feit