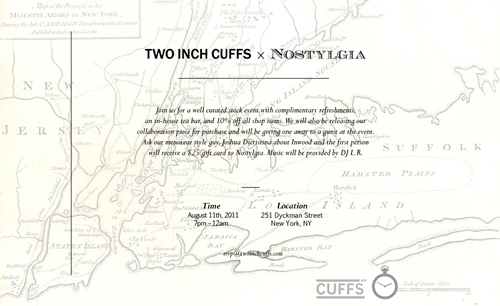 Two Inch Cuffs x Nostylgia Stock Event
Two Inch Cuffs and Nostylgia are teaming up for a well curated stock event with complimentary refreshments, an in-house tea bar, and 10% off all shop items. The event will also feature the unveiling of the duo's collaboration piece (a Henley tee) and making it available for purchase with a few being given away at the event as well. Ask Two Inch Cuff's menswear style guy, Joshua Dicristina about Inwood and the first person will receive a $25 gift card to Nostylgia.
The event will take place on Thursday, August 11th from 7pm to midnight. It's open to the public but be sure to RSVP by emailing [email protected] More info here.
Nostylgia, 251 Dyckman Street New York City (Inwood) (212) 304 0337