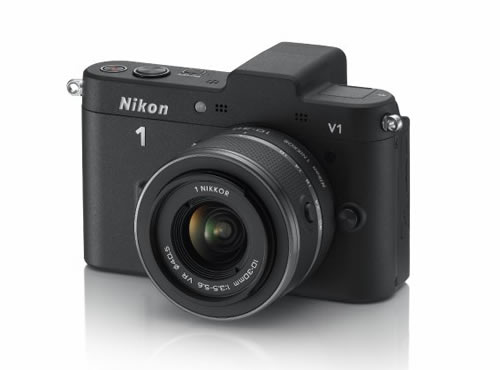 Being loyal Nikon fans, we're really excited to hear that the company is releasing a line of mirror less cameras. The Nikon 1 system will consist of two new, extremely versatile cameras — the V1 and J1 — and will also bring forth four new ultra-portable lenses. To compete directly with the NEX-5, PL1, GF-1 and their brethren, the Nikon 1 system will be the perfect blend of image quality, speed and portability. The system's built from the ground up and comes with some top-notch features.
The Nikon 1 V1 features a 10-megapixel CMOX sensor and a high-resolution integrated electronic viewfinder. It's extremely light and boasts an ultra-fast AF system as well as pre- and post-capture modes that help you avoid missed moments. If you're looking for even more portability, check out the Nikon 1 J1 as it's even small and features a built-in flash, but no electronic viewfinder or Multi-Accessory Port. The J1 offers more individuality as both the J1 and its lenses come in a range of matching colors, including white, pink, red and black.
The lenses include a 10-30mm f/3.5-5.6, 30-110mm f/3.8 -5.6, 10mm f/2.8 and 10-100mm f4.5-5.6 PD-ZOOM, with future 1 NIKKOR lenses already in development. The Nikon 1 range of optional system accessories includes a SB-N5 Speedlight flash, GP-N100 GPS unit, and FT-1 mount adapter for attaching any NIKKOR DSLR lens (all AF-S and AF-I NIKKOR lenses are compatible with the Nikon 1 autofocus system).
The Nikon 1 V1 will be available in a kit with the new 10-30mm zoom for $899.95 (£829.99, €962.00), starting October 20th. The J1 will be available for $649.95 (£549.99, €638.00) with the 10-30mm zoom lens.