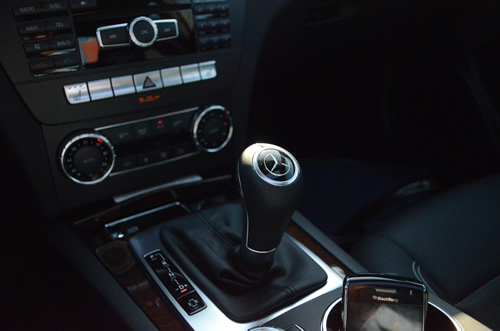 In part 1 of our week with the new 2012 Mercedes-Benz C350 Coupe, we gave you all a look at the exterior of the newly designed beauty. We drove the C350 Coupe everywhere — work, play, errands and, yes, shopping. We can go to the mall anytime but we really wanted to see how the car would handle on a slightly longer distance and so we decided to take our first ever trip to Woodbury Commons Premium Outlets. It's a short while outside of New York City and the drive is as relaxing as it is scenic. We won't be disclosing what we bought but here's how it all went down.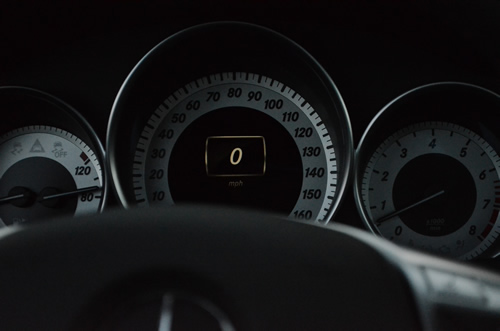 The C350 packs a lot of features that really worked well for this trip in particular. Firstly, without getting super technically, it's great on gas, especially on the highway. Secondly, the interior is really spacious and the comfort level makes a trip like this fly by effortlessly. When you're driving for an extended amount of time, the chances of something happening undoubtably go up. With the C350, which starts at roughly $37K, it has some features that are geared to keeping you safe and out of harms way. For anyone — whether you're 24 and looking to buy your first luxury car or 34 looking for something more sporty — safety should always be in the back of your mind. The key thing that really stood out for me was the Lane Keeping Assist feature which alerts you when you start going out of your lane. Unreal. The Lane Tracking Package also features Blind Spot Assist, which monitors both blind spots behind and to the side of the vehicle. The C-Class is Mercedes-Benz's entry-level vehicle but the features this one has are ones you'd expect to find in the higher end models like the E-Class or S-Class (and you do).
Favorite part of a road trip in the C-Class Coupe you ask? The navigation, folks. It's really easy to use and it outlines each exit coming up and key spots like gas, food and Starbucks. On the way back, this came in real handy as we stopped for Starbucks and were then re-routed back onto the highway after we grabbed our coffees. The other cool tech feature is the Bluetooth linking. Not only can you access your entire phonebook right from the in-dash interface but you can also stream music from your iPhone wirelessly. Ah, yes, I love technology.
The 2012 Mercedes-Benz C-Class Coupe starts at $37,200 for the C250 and works its way up to roughly $61K for the AMG model. Thank you again to Mercedes-Benz for letting us be a part of the C-Coupe Your Week project. Enjoy more looks at our trip to Woodbury Commons below.