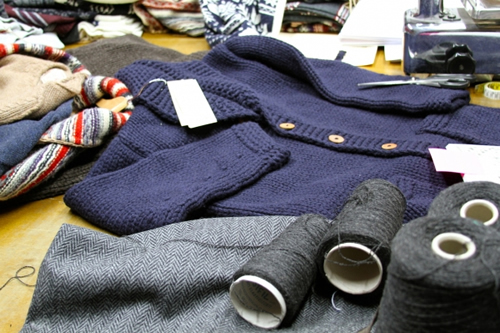 For those not in the loop, Jamie of The Standard Edition has been on a European tour for the ages. He's taken a liking to Italy particularly and understandably so. There's a lot to take in from beautiful architecture, well-dressed people, and the abundance of textile factories tucked away in the villages of Florence and other surrounding cities. Among them is that of G.R.P. Knitwear, a Florence-based maker of fine knits and other men's offerings. They first opened doors back in 1973 as a source for other companies but quickly established their own name in a few years time. G.R.P. Knitwear is like an unsung hero of sorts as they've made pieces for more notable labels like Engineered Garments, Beams, Svenson, and many others. A few words from Jamie on the look and feel of the space:

Inside the relatively small work space/showroom/office sit a few looms, a couple of people hand sewing and a few others checking and packaging the final product. The environment is quite calm where the only sound is some light Italian radio coupled with the hum of sewing machines and looms. From start to finish, from raw to final product, everything is done here. Prototypes are first determined using the manual loom, and later computer operated looms spit out what will get shaped and sewn into a sweater of some kind.
More imagery of G.R.P.'s showroom below and be sure to follow Jamie's journey through Europe over at The Standard Edition.