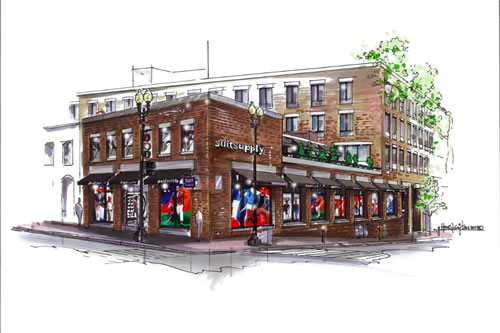 First Look | Suitsupply Washington D.C. Flagship Store
Suitsupply is getting set to invade the nation's capital, Washington D.C., and we've got some first looks at the mock ups. The 5,400 sq./ft. space is in close proximity to the Four Seasons, the Georgetown campus and its surrounding strip of notable retail boutiques. Expect all the fine product you'd find in any of their other fine locations which, for those of you who aren't familiar, ranges from well-made suiting and shirting to footwear, accessories, and some exceptional outerwear as well. They also offer in-house tailoring by experienced professionals who are able to deliver some pretty quick turnarounds when the situation calls for it.
With a late-July opening in place, the final touches are being put on the gorgeous space as we speak. They're also making some key hires now so be sure to email Suitsupply for more information on that front.
Suitsupply 2800 Pennsylvania Avenue NW, Washington, DC 20007