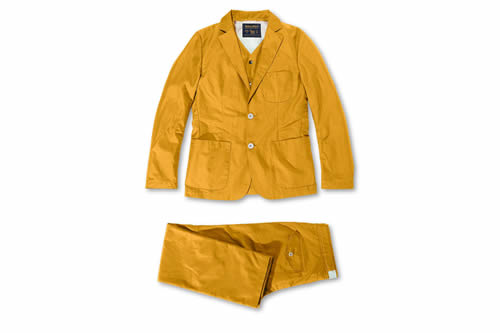 For S/S 2013, the folks at Woolrich John Rich & Bros. have dropped a collection that looks to explore the origins of the modern outdoors, classic American style and innovations in aesthetic fabric design through two themes: Stone Masters and The New Journalists. Both sets of offers, though distinct in their own right, blend effortlessly to define what Woolrich John Rich & Bros. has stood for over the years.
Stones Masters blends innovation with style and functionality as it takes inspiration from mountain climbers of the 60's and 80's. The Spring/Summer 2013 collection delivers exuberant colors and patterned prints atop fabrics such as denim and durable cotton as well as Ramar cloth, poly cotton and Cordura nylon. Among the offerings is the Tailored Mountain suits, the Woolrich Mountain Parka and special Mountain Jacket made in collaboration with Japanese label Nanamica. Look for it to be available in an all black version with contrasting gold zippers, and a two-tone electric blue version with orange shouldering and personalized label.
The New Journalist theme is inspired by late 60's journalists and war correspondents such as Hunter S. Thompson, Tom Wolfe, Oriana Fallacia and Joan Didion. It's filled with military style that's mixed with local clothing from the regions from which they were reporting. One of the standouts from the lineup is an ergonomic 3-layer Hiking Blazer with pockets and hood designed by TOKITO. There's also a limited edition Woolrich x Deus ex Machina collaboration — a t-shirt capsule designed by the Australian custom motorcycle and surf brand.
Though the pieces are quite sometime away from being released to the masses, check out the looks below to wet your mouth.