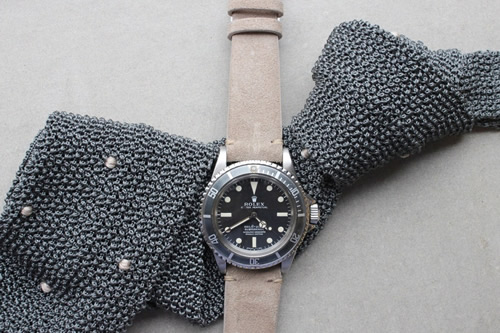 On their way to watch-world domination, seems the folks at HODINKEE have scheduled a few stops. They've already gone through an amazing site redesign and even launched an in-house line of hand-made Italian straps, pouches, and travel rolls. Now, they've teamed up with London's Drake's to create a limited edition tie collection inspired by two of HODINKEE founder Ben Clymer's favorite watches. Drake's of London is the pinnacle of men's neckwear and accessories for as long as even my father can remember. Today is truly a momentous day, friends. These knit ties are woven with the highest quality silk yarn in the world, and the dots are hand-sewn with silk thread. No two ties are the same.
Inspiration for the grey tie comes from a '72 Rolex 5512. The black dial had turned a beautiful matte grey over the last 40 years while its hours markers and hands had turned from a light white into a rich cream. Perfect color combo for one of HODINKEE's first neckties? For sure. Another sub, the '62 5508 played a crucial role in inspiring HODINKEE's second watch. The gilt, gloss dial has only turned deeper black over the past 50 years, while the markers and hands have turned a beautiful orange shade.
Drake's of London for HODINKEE ties are priced at $155 and can be had through the HODINKEE Shop in both Grey and Black.